Ski day 63 at YariOnsen
The best "ex-"powder snow.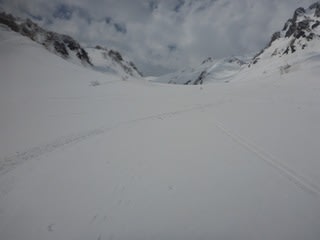 63rd day for this ski season, 33 days for powder, 17 days for backcountry, telemark for 12 days
YariOnsen 6:20-12:00
Gear: Teneighty GUN+GARMONT RADIUM
Today we got up very early, at 4:45am.
Morgenrot in Hakuba.
Today we aim at the left Mountain, Mt. Hakuba-Yarigatake, and the large valley of the left, Oideppara. We did the same route
a year ago
.
The mountain looks close, as we see everyday, but the approach is very long.
We have to get up early to get there.
The window shield got frost.
We started at 6:20 am.
The terrain just before the Obinata kor (saddle) was frozen, and the climbing skins did not work. I had to switch to the crampon.
8:00 Obinata kor (saddle). It took longer than I expected.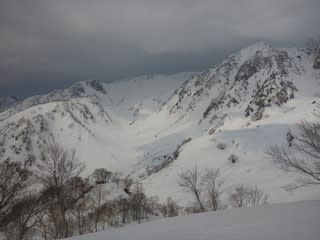 We were worrying about the weather, which looked worse.
The attach to the peak would not be possible.
There were huge debris at Shakushi-zawa.
Probably a couple weeks ago there should be a huge avalanche.
Looks as if a dozer pushed the snow.
The power of the nature surprises us.
We arrived at Yari-Onsen spa at 9am.
There was much more snow than usual.
I have been here many times, but never seen the snow like this.
Approaching to the spa.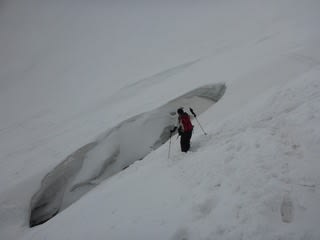 Arriving at the bath.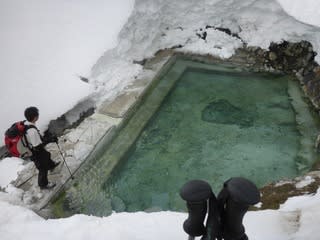 The water is usually hot, and we have to cool down with the snow.
Today we could put the snow very easily.
Nice spa.
After the spa we enjoyed coffee.
The weather got better, but
The snow was too slushy to allow us ski smoothly. The wet snow stops us.
We gave up to climb further.
The way back from Yari-Onsen spa.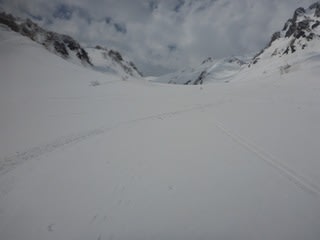 The trail looks very nice, but the snow disturbed us to ski.
We came back to Obinata saddle.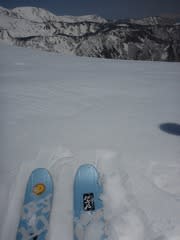 Hiking was much easier than skiing.
The trail also looks nice, but the snow was bad.
Nice view, except the snow.
We came back to the base at noon.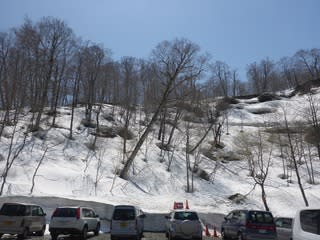 It was much shorter trip than we planned.
Lunch at Sounds Like Cafe.