Ski day 49 at HappoOne
Unexpected petit powder.
49th day for this ski season, 29 days for powder, 9 days for backcountry, telemark for 9 days
HappoOne 12:20-13:15
Gear: Pocket Rocket(Telemark)+GARMONT ENER-G
It was raining in the morning. Further more the thunder clapped. The condition seemed very bad, but I went for skiing as usual, anyway.
The rain turned to the snow when I came out.
It was good I could avoid skiing in the rain.
I chose telemark today.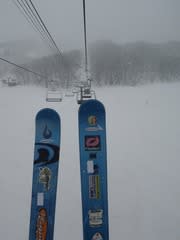 I came to Skyline.
There are some joyful trails.
Now I am joining, too.
The rain has just turned to the snow, and the terrains were still soft.
The surface was covered by the powder snow. Feeling like powder skiing.
It was a fun, and I came up for another run.
The terrains were covered by the snow again.
I enjoyed again.
I did not expect anything today, and I did not wear a hat or any under warmer.
It was cold without under warmers.
I learn the condition will be good the snow just after the rain.
It was a fun even in a short time.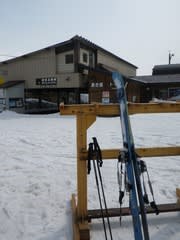 Lunch at Coccola with chiffon cake.
Buckwheat noodles for diner.