Ski day 41 at Cortina
Retiring in front of the powder snow.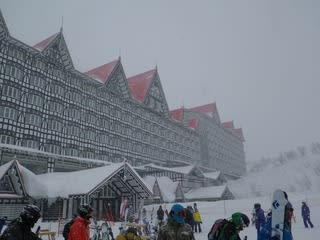 41st day for this ski season, 25 days for powder, 9 days for backcountry, telemark for 7 days Cortina 10:00-12:00 Gear: Atomic Demo, ARMADA JJ
The powder snow was forecasted. The updated information said Cortina had 30cm of snow falls.
I believed today would be one of the best days.
At 8am.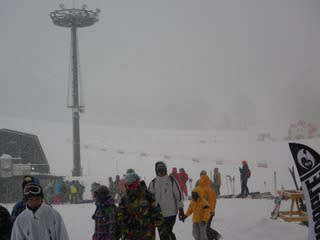 We put the ski sets as usual. The cue of ski sets were long. We were a little late.
Just before the ski lif opened, I tried to put my skies and found the tow piece was down.
I was supposed to push the piece down to release, but I could not.
A plastic piece was broken and the spring got down.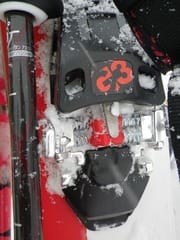 It really shocked me. I could not even put skies on the very powder day!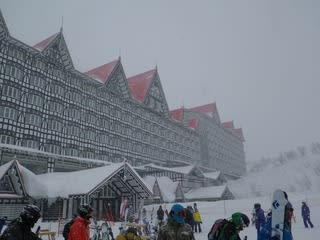 I tried to find rental skies but there were no fat skies.
I also tried to fix the piece, but I could not.
Then I found a 'relatively' fat ski with 12cm of top width. I borrowed it and then followed the very long long cue of the lift ticket window.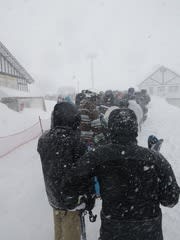 It was already 10am when I loaded myself on the lift. It was 1 hour and half late.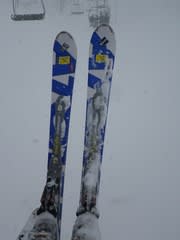 The one I borrowed was Atomic Demo.
The major courses were already finished, but
Some area was still fresh.
But this ski was not enough for the powder snow, as I knew.
The ski sank deeply to my waist. When I turned the powder snow flied up over my face and I could not see the front.
I almost to hit the next tree.
It was dangerous and no fan.
Then I heard about the sampling of ARMADA skies. I knew it but I thought it was not available before 10am.
It was annoying to go down to the crowded base lifts, but
I borrowed ARMADA JJ.
I could hardly manage the rest of the time with the basic ski, and it would be much better to spend the time with a fan.
I could run only two times with ARMADA, but I really enjoyed.
The powder day must be for fat skies.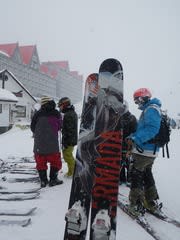 I brought my G3 bindings to Rapie, Hakuba.
It is good to bring quickly when it is trouble.
It was pity that I missed the beginning, but it was good it did happened today, in Cortina.
If it would happen in deep back country side, it would be very difficult to come back.
It was already reported that the tow pin is easily broken.
My tow pieces were already replaced but the trouble today was new.
I had a trouble in the beginning, but all's well that ends well after I enjoyed two runs.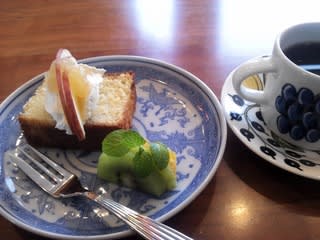 Another enjoying time with nice coffee and cake.