Ski day 28 at HappoOne
28th day for this ski season, 15 days for powder, 7 days for backcountry, telemark for 6 days
HappoOne 13:50-14:40
Gear: Pocket Rocket(Telemark)+GARMONT ENER-G
Through the web cameras the ski resort had poor visibility, which discouraged me to go out.
I worked in the morning but did not want to stay at home all the day.
Then I went out.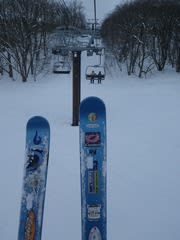 To Kita-one, for a short stay.
Above Kita-one, the mountain was in the clouds. I did not want to go further.
A few runs at Kita-one.
Very hard to see in flat light.
I tried to ski in an hour, but quit.
Well, I skied today anyway.