Ski day 26 at HappoOne
26th day for this ski season, 15 days for powder, 7 days for backcountry, telemark for 5 days
HappoOne 11:45-15:15
Gear: Pocket Rocket(Telemark)+GARMONT ENER-G
We skied at HappoOne again.
The visibility up there looked bad from the base,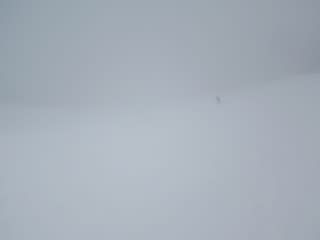 It surely did.
A little lower place had better visibility.
The courses were vacant.
We did several runs at Riesen. The condition was good.
In the afternoon it became more visible.
In the afternoon we did at Panorama.
We would quit soon, but did more at the end.