Ski day 25 at HappoOne
A beautiful day at HappoOne. Skiing to adjust the jet lag.
25th day for this ski season, 15 days for powder, 7 days for backcountry, telemark for 4 days
HappoOne 10:30-12:30
Gear:
BanYa
M0809
Continued from
USA - day 12
Sooner arrived at Narita Airport, directly to Hakuba.
Avoiding the heavy traffic in Tokyo Met, I took a loop in the North, which took more time.
I could not stop sleeping on the way.
I woke up late and went to HappoOne.
A beautiful day, but the resort was very vacant as a weekday.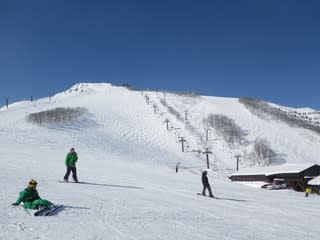 At Grat.
Beautiful three summits of Hakuba.
Then I visited various courses.
Kitaone course, where I usually don't go.
It was very vacant and I turned in a very long curve, or even skied straight down.
Usagi bumps looked hard, but not harder than I expected.
It was good to ride on a basic ski set.
Coffee at
Senjyu
. Very relaxing time.
I love America, but the brewed coffee is better in Japan.
Diner at Chinese
Somebody says I should miss Japanese foods, but I don't.