Ski day 7 at HappoOne
7th day for this ski season, 5 days for powder, 3 days for backcountry, telemark for 2 days
HappoOne 12:30-14:30
Gear: Pocket Rocket(Telemark)+GARMONT ENER-G
We woke up at 6am to see if the snow was deep. We found it was not and slept late.
In the afternoon I left for skiing. Our powder mate told me it had no visibility, which discouraged me, but I went there anyway.
Gondola lift.
A few snow in the base area.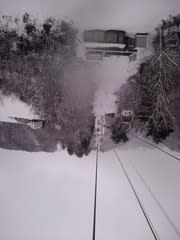 Usagi.
No visibility up there.
Kurobishi.
I could not see anything.
I could not see up and down. It made me like car sickness.
The snow condition was perfect, though.
I did 4 runs,but they were enough.
Barbeque for diner.