Ski day 10 at HappoOne
The rain totally destroyed the snow in last two weeks.
10th day for this ski season, 7 days for powder, 3 days for backcountry, telemark for 2 days
HappoOne 13:30-15:30
Gear:
BanYa
M0809
The rain was forecasted. We woke up early in the morning, just in case. There were few snow on the window shield of the car, but sooner it started raining.
We slept again.
In the afternoon I went skiing.
The rain flew on the surface and made ditch.
I expected Riesen slalom course well groomed, but the course was rough.
I hated the condition and moved up to Kurobishi.
I skied there for a while.
The bumps of Usagi was not so bad.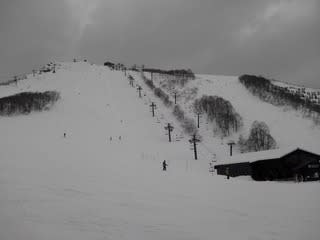 Then I skied on Panorama.
On the chairlift I was reading the newspaper in my mobile phone.
I decided to go home after finishing the newspaper, but there were interesting articles today.
I had to ride on the lift three times to finish.