Ski day 20 at Snowbird and 'Urahiyo', USA - day 7
We did backcountry skiing in 'Urahiyo', as our favorite area in Hakuba.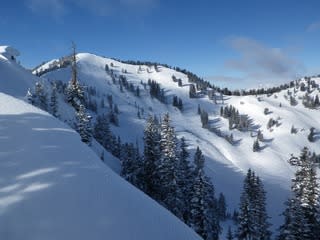 20th day for this ski season, 12 days for powder, 4 days for backcountry, telemark for 4 days
Snowbird 9:15-10:30
'Urahiyo' 11:50-15:10
Gear:
BanYa
M1102+GARMONT RADIUM
Continued from
Ski day 19 at Brighton, USA - day 6
Although a new year has started in Japan, it is still December 31 morning here in Salt Lake City.
16 hours to go.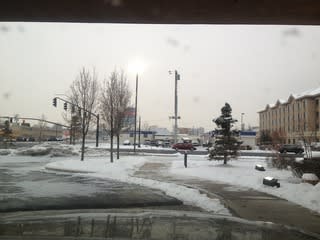 We came to Snowbird.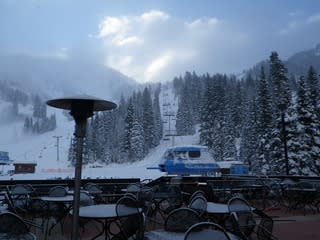 New powder snow is not expected here, but we bought 2/5 tickets, which is valid two days of five days. Today is the last day of the validation. Not to waste the ticket we had no choice to go to anywhere else.
No sunlight comes yet. Very chilly.
Nice groomed courses,
but long and fast turns made us frozen.
We did short turns to warm up.
We went to the bowl, but hiking up was not allowed.
We did several runs but ended up at 10:30 am.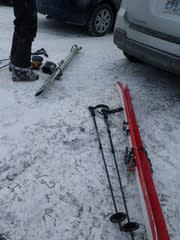 We moved to Alta ski resort, next to Snowbird.
Early lunch.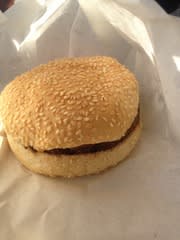 After lunch we hiked up on the mountain in front of Alta.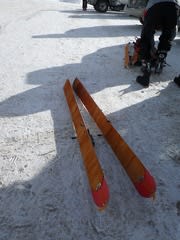 The terrain looks very similar to 'Omote-Hiyo', our favorite backcountry area.
And we found the other side also looks very similar to 'Urahiyo', our favorite area.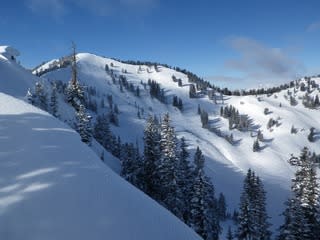 Now we go down on 'Urahiyo'.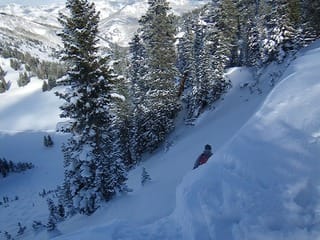 Urahiyo always attracts us.
Very fine powder snow.
Then we hiked up to the other side. In Hakuba we call 'Okuhiyo'.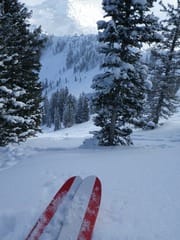 The area seemed for Heli-skiing and got many tracks already.
'Okuhiyo' was also nice.
Now we hike and go back to the base.
In Hakuba, 'Omote-Hiyo' becomes bad by the sunshine, but here this side did not get worse, because of the high altitude.
Wow!
We came straight back to the parking lot.
Very convenient. We enjoyed the powder snow a lot.
I just realized today is the day-20, since I started skiing in November.
Year-end party at the suites.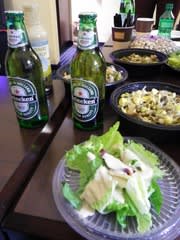 Continued to
Ski day 21 at Brighton, USA - day 8