Ski day 1 at HappoOne
The season has just begun.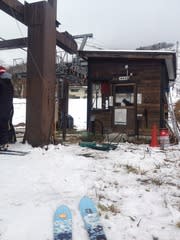 1st day for this ski season, 0 days for powder, 0 days for backcountry, telemark for 0 days
HappoOne 10:06-14:06
Gear: Teneighty GUN+GARMONT RADIUM
The season was supposed to start in Tateyama.
We planned to go there, but the bad weather was expected.
The news came instead, that some of ski resorts in Hakuba would be open.
On Saturday, it was raining heavily.
On Sunday, it was still raining but it was not so bad.
Also the temperature decreased and it would be snowing at the ski area.
We started at 10am.
We got the Kokusai #2 chairlift.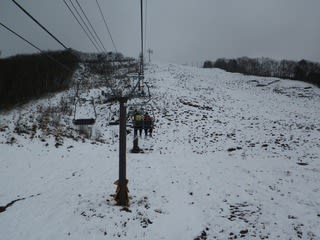 Kokusai course has fewer snow yet.
Panorama course.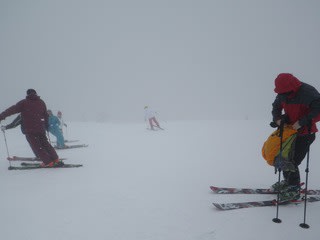 It was fogy, but I was happy to ski for the first day.
The visibility was not good but the condition was not so bad.
We did several runs.
We hardly take lunch in the ski resort, but today we had lunch there.
A very unique menu in Hakuba, "Ohyokkuri".
After lunch the visibility got better.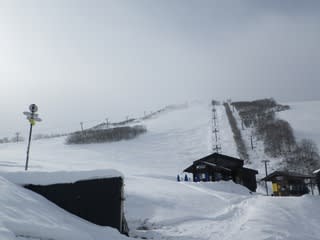 We climbed up a little.
Our ski mate wanted to try new equipment.
It became very windy, though.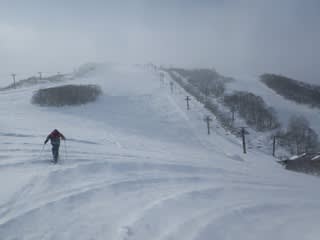 We were afraid of the lift operation suspended.
The climbing had to be short.
It looks very smooth as the first track.
But the surface was very crusty.
The lift often got stopping. Now the best time to finish.
The most challenging part for me today.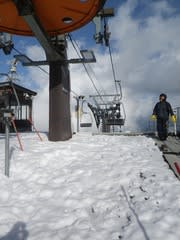 Descending on the chairlift and hold skies by hands.
It is awful as I have acrophobia.
In a few minutes I became more relaxed to take a picture.
An early start of this season. We wish the pleasant season.