Cycling-Day 23-Misaki port/Kamakura(101.7km)
Nice and comfortable ride along the beach.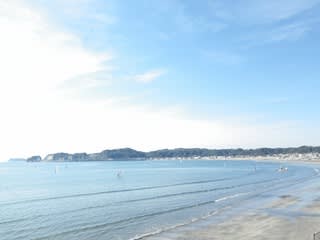 Day 23, 116days for cycling, total distance 8,200.4km, total climb 113,802m
Misaki port/Kamakura 6:37-14:18
Distance today 101.7km, climb 281m, duration 7:41, avg speed 18.9km/h, burned 2,705kcal
Gear: GIANT DEFY COMPOSITE SE
Today's route
My bike-riding season is almost ending. For closing I want to go to Misaki port to eat tuna fish.
This is the best route I like.
6:37 started
7:07 across Tama river
I saw Mt. Fuji. The upper mountain was covered with the snow. The ski season is coming.
7:47 Yokohama Minato-Mirai.
The pace is faster than the last time.
A cycling lane is newly built.
But it ends very soon. It's not convenient.
I rode very smoothly and arrived at Miura beach at 9:56.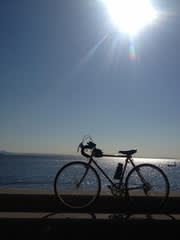 3 hours and a few mins so far.
The sea is beautiful.
I could see Mt. Fuji again.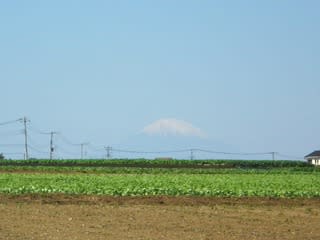 At 10:35 a cross point to Jogashima island.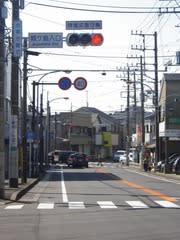 I go to Jogashima island today. 3 hours half so far.
It's faster than
the last time
.
Corssing Jogashima bridge.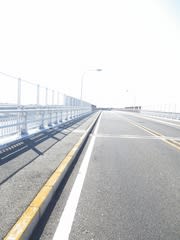 No toll fee for bicycle.
It's been many years since I was here.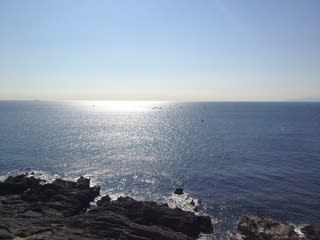 Nice view.
Now I go back to the port and eat tuna fish.
Two bowls of combination in 12,00 yen. Very reasonable.
I chose a soy-sauce pickled one and rich-fat piece. Very nice.
It is worth to ride over 70km to eat.
The Misaki port.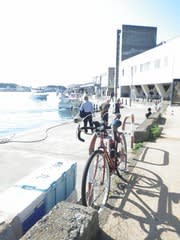 Now I go back home.
Nice ride along the beach.
At 12:24 at Tateishi park.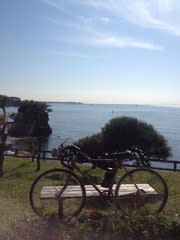 Enoshima island is in my sight.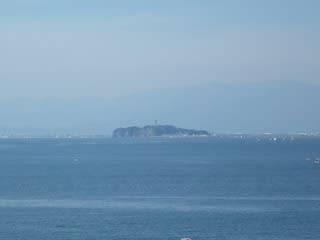 At 12:52 at Hayama marina.
Keep riding well.
I love this route.
At 13:17 at Yuigahama.
Now I left the beach. I miss this nice breeze.
Just after turning here, I got a big sound like gun shot.
I got my front tire flat.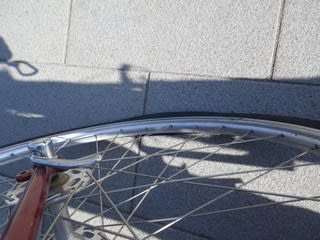 I know so much about repairing.
I set my bicycle and take the repair kit out, and I realize that....
I left a spare tube.
I looked for the size for this at several bicycle shop, but it is a special one. I could not find it.
Too bad, but I have to finish my ride here now.
Still I was lucky, I finish the nice ride along the beach already.
At Kamakura station. Now I pack my bicycle and ride on train back.
Totsuka station.
I use this rail crossing on the way back for my ride. I did not expect to pass here by train.
At home I found the tire was burst.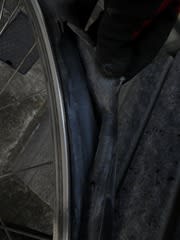 I replaced the tube.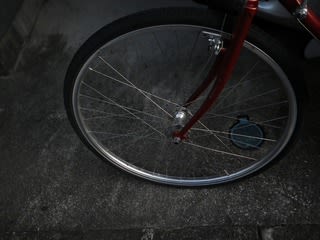 The bicycle is equipment to ride on, not to carry.