Trekking-Day 12-Karasawa->Kamikouchi(16.0km)
Beautiful view at Karasawa, we miss it.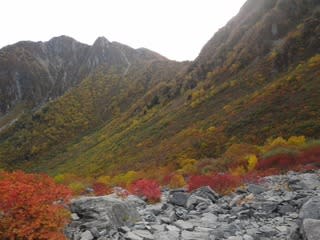 Continued from
Trekking-Day 11-Oku-Hotaka to Kita-Hotaka Traverse(5.9km)
.
Day 12 Karasawa->Kamikouchi 7:00-11:10
Distance today 16.0km, climb 800m, duration 4:10, avg speed 3.8km/h
Today's route
Everyone is early at the hut.
Some are preparing departure before 4am, the lights are on at 4am, and the breakfast is ready at 5am.
We did not order our breakfast here, but we could not be sleeping while our neighborhood made noise.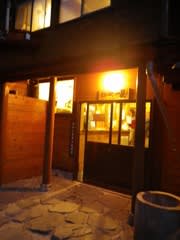 It was still dark outside.
I was watching stars and the camp sites where the tents were lit on.
We were told to use one futon (mattress) with two persons, but we were lucky as the both side of us did not come. We enjoyed one futon by one.
We expected Alpen glow, but...
The beautiful sunset means that the Alpen glow would not come, that is because the lights were not enough.
Only one chance to see the Alpen glow.
Yesterday we walked this skyline.
We left Karasawa at 7am.
We miss it. The next time we will come here, everything will be covered by the snow.
People were preparing departure under the snow.
Now we leave here.
The trail was crowded on the way back.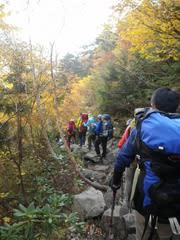 Arrived at Yokoo at 8:56. It took 2 hours, more than we expected.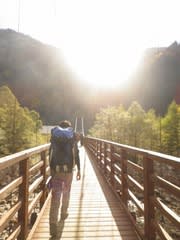 The trail is wider from Yokoo. We speed up.
Arrived at Tokusawa at 9:36.
The hut has the nice atmosphere. We had breakfast here.
A curry with rice again.
Home-made curry in 950yen. A block of pork was in it. Good price and good taste.
We walked fast after breakfast, then,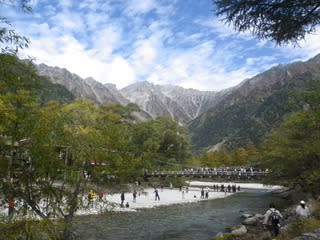 Arrived at Kappabashi bridge at 11:07.
Many people took pictures of Mt. Myojin.
Arrived at the bus terminal at 11:10.
We came back to our cars and took spa.
I left the parking lot at 1pm and wished to come home by 5pm, but arrived at home at 7pm due to the traffic.
It took 6 hours for driving, and 12 hours from Karasawa. Such a long trip!
Nice colored leaves and thrilling traverse, good experience.