Trekking-Day 11-Oku-Hotaka to Kita-Hotaka Traverse(5.9km)
Traversed from Karasawa via Mt. Oku-Hotaka to Mt. Kita-Hotaka.
Continued from
Trekking-Day 10-Karasawa(16.0km)
.
Day 11
Oku-Hotaka to Kita-Hotaka Traverse 7:02-15:37
Distance today 5.9km, climb 1,214m, duration 8:6, avg speed 0.7km/h
Today's route
Beautiful Alpen glow.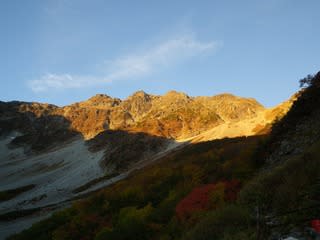 The main guest room in the hut. Most of guests had already left.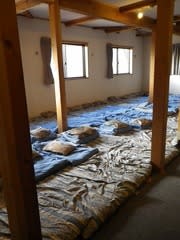 One Futon (mattress) was provided to one person last night, but I was afraid it would not be tonight, in the weekend.
We did not have to hurry, and left at 7:19. Today we head to Mt. Oku-Hotaka.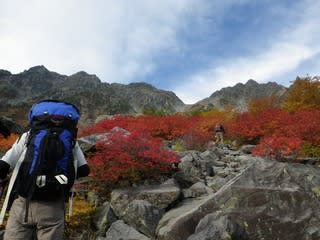 The leaves were beautifully colored here.
Leaves were shining in the morning light.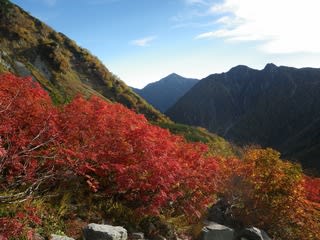 Colored leaves and Hotakadake Hut.
Climbing up on Seitengrat.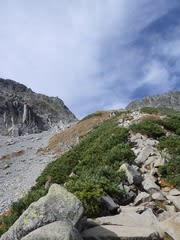 I have been to the start of Seitengrat, but it was covered by the snow at the time.
Arrived at 8:38 at Hotakadake hut.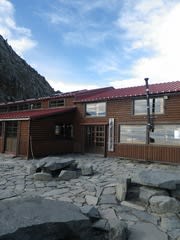 Keep heading to Mt. Oku-Hotaka.
It was windy and very cold, probably below freezing level.
I wore a ski jacket and ski gloves.
There are ladders and chains on the trail to climb. I was very afraid to use but finally arrived at the peak at 9:24.
A steep peak far on my left hand is Mt. Yarigatake.
The peak is within the mobile service area, and I could post Facebook.
While posting I was asked to take pictures by many people.
Characteristic peak of Mt. Yarigatake.
I like this view.
Today we enjoyed 360 degrees view.
We also could see Mt. Fuji.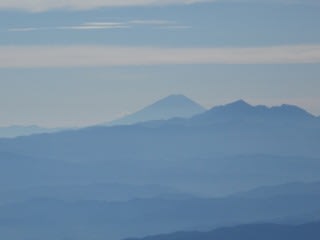 Arrived at Hotakadake hut at 10:30.
It was scared again to come down with ladders and chains.
We took early lunch here.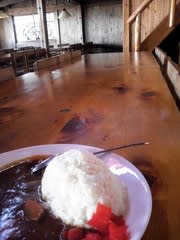 The curry with rice is 850yen. Very nice.
I cannot imagine why ski resort restaurants cost higher, even more than 1000yen.
Today we planned to go straight down to Karasawa, but we could arrive before noon if we would leave now.
It is not a good idea to drink beer until diner. The terrace would be colder after 2pm in the shadow, and the hut would be busier Saturday afternoon.
We would go to Mt. Kita-Hotaka tomorrow, but we probably could do today.
Now we left to Mt. Kita-Hotaka at 11:06.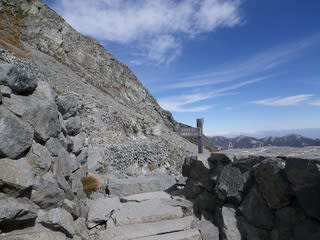 Arrived at Mt. Karasawa at 11:21.
This signboard stands against the slope, and I could not take a picture of myself with the board.
Sooner we left Mt. Karasawa, we came to a chain to climb down.
We could not see the bottom.
I am actually afraid of height.
I could not look down, but I just had to watch my hands and the rocks to step next.
The chain we descended.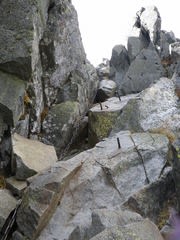 We looked back at the trails we descended from the saddle.
I believe I did a good job as I am afraid of height.
The peak of Mt. Kita-Hotaka looked very close, but the trail is up and down, and we could not arrive soon.
Arrived at the peak at 13:17.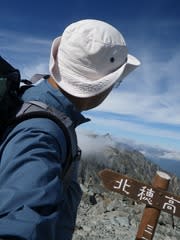 This is the second time to come here. I came here for skiing last time.
Mt. Yarigatake was closer.
Now we go back to Karasawa.
Keep going down.
Came back to the hut at 15:42.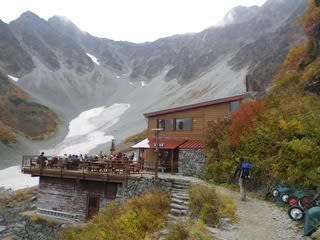 We checked in again. The staff told us a futon would be for two persons Saturday night.
A friend of mine came up to the camp site today. I went there to find her.
Cheers!
I found the trails I walked today is in this picture. We walked through all the way from the right to the left.
Now I believe again that I did a good job today.
The camp site was busy, but not so bad. +20-30% more than last night.
There were still some spaces.
I came back to our hut, and drunk beer again.
Cheers to the mountains.
Continued to
Trekking-Day 12-Karasawa->Kamikouchi(16.0km).