Trekking-Day 10-Karasawa(16.0km)
To Karasawa to watch colored leaves.
Day 10
Karasawa 8:07-13:14
Distance today 16.0km, climb 800m, duration 5:7, avg speed 3.1km/h, burned 1,251kcal
Karasawa is famous for its colored leaves in autumn. 5 years ago I came here for skiing and stayed at a hut. I saw a beautiful picture of colored leaves here on the wall, and wanted to come to see.
In the other hand I hear tough stories that, 2-hours long cue for washroom, one mattress for three persons, or no place to build a tent., etc.
We avoided the national holidays last week, and took a day off on Friday. Let's see how it works.
We came to Sawand parking lot last night. It was cold in the night.
Kamikouchi, an entrance to Karawasa permits designated cars only. We have to park a car here and take a bus or a taxi.
We took a bus at 7:40 to Kamikouchi.
Kamikouchi bus terminal. Nice freezing air.
Started at 8:07.
Kappabashi bridge. This is very famous scene on many pictures.
It was still dark around here, because here is the bottom of the valley.
We walked all the way.
Walking with monkeys together.
At Tokusawa at 9:28.
Nice red banners. They are actually red mattress to dry.
At Yokoo at 10:33.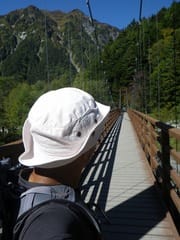 Now we climb up from here.
At Hontanibashi bridge at 11:23.
We kept walking and see an open view.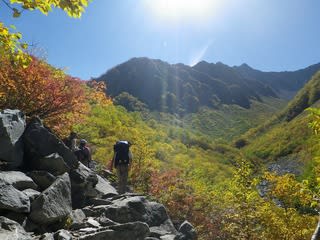 We came here on skies, but the view is much different.
We took time to take many pictures of colored leaves on the way.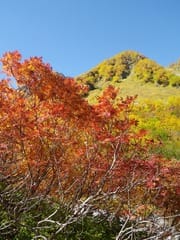 Nice leaves. The best time was last week, but they still looked beautiful.
Now we were approaching to Karasawa.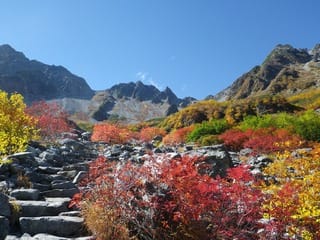 We stay here at Karasawa hut. I stayed here a year and half ago for skiing.
Nice atmosphere with the colored leaves.
Arrived at 13:14.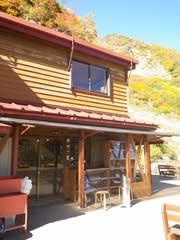 Camp site below was not so crowded.
Coffee break at the terrace.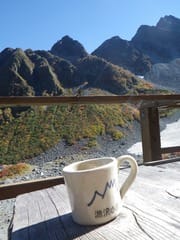 We were designated to have diner at 5pm.
Beer at the terrace, but nothing else to do until diner but reading comic books or novels.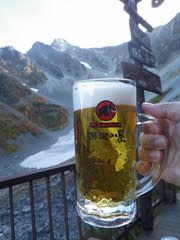 It became cold outside. It was warm enough in the hut.
Continue to
Trekking-Day 11-Oku-Hotaka to Kita-Hotaka Traverse(5.9km)
.