Trekking-Day 8-YariOnsen spa(12.8km)
Trekking to a hotspring above clouds, Yari-Onsen.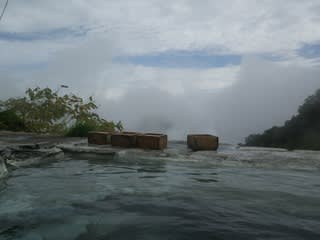 Day 8 YariOnsen spa 7:06-12:29
Distance today 12.8km, climb 1,059m, duration 5:23, avg speed 2.4km/h, burned 1,195kcal
Today's route
Hakuba three summits were seen very well in the morning.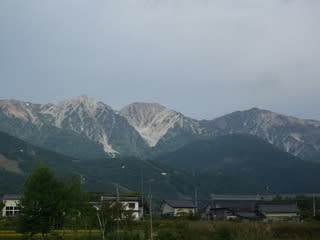 The ridge to Mt. Karamatsu, where I climbed a lot this year, was also seen well.
A typhoon is approaching. Today is the chance for climbing.
Today, my goal is Yari-Onsen, where I have been many times in spring. I came here
this April
, too. But I have not been here in summer time, when the hut is open.
The hut is closed in the end of September. I wanted to be here before they close.
7:06 Starting at Sarukura.
The parking lot was crowded.
Sooner, I came to a cross point to Yari-Onsen.
30 mins later, I came to Sarukura highland.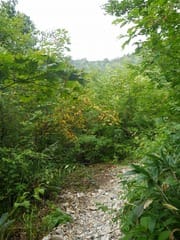 The view is different from the one I saw when skiing.
Mt. Hakuba. The leaves were already colored. The autumn is approaching.
8:25 Col of Obinata.
I expected the duration in 1 hour. It was slower than I expect.
I met a ski mate of mine here. We walked together from here.
Yari-Onsen hut is seen from the col.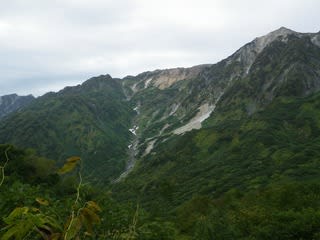 On the way to Yari-Onsen. The trail is not so difficult, but some places are slippery.
9:28 arrived at Yari-Onsen. Duration in 2 hours 20 mins.
This is the first time to come here in summer.
The hut is already being taken apart.
They spend a week to take apart.
They build the hut in early summer, and take apart in autumn every year.
The reason they have to take apart the hut is the avalanche. This place is in the avalanche path in winter, and it would be destroyed if the hut would stand.
This is one of astonishing Japanese technology.
The hot spring above the clouds.
I was afraid of the temperature. In spring time there is a lot of snow and we can cool it down. In autumn there is no snow to cool down.
The water was not so hot as I was afraid, though.
10:20 leaving the hut.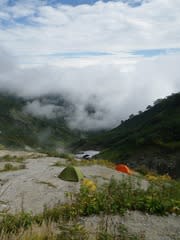 Next time I want to attack the peak of Mt. Hakuba-Yari.
Very rough appearance of Mt. Shakushi.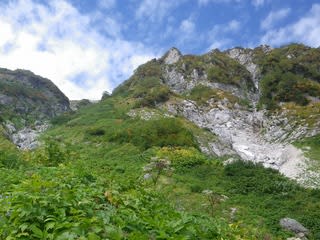 Nice contrast with the blue sky.
A month ago, I was looking down from the peak of Mt. Shakushi
.
11:27 Col of Obinata. The duration was same as outbound.
Colored leaves and Mt. Hakuba-Yari, Mt. Shakushi.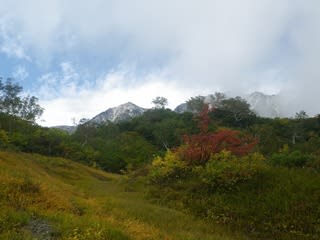 Looking down to Sarukura highland. Nice view.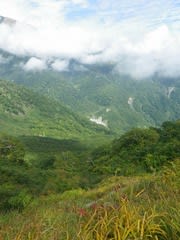 12:37 arrived at Sarukura.
The duration was exactly same between inbound and outbound. I am not good at walking down.
For the late lunch we went to Hotaru, a buckwheat noodle restaurant.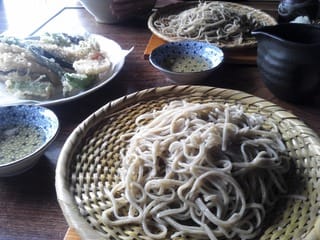 Shaved ice for dessert.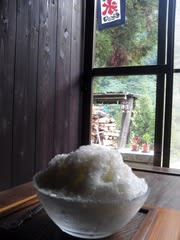 They finish this menu in September.
I went to Yari-Onsen hut in closing time, and ate shaved ice. I feel the change of the seasons today.
In the evening my wife served me Taiwanese tea at the river side.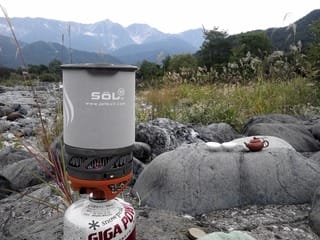 Nice to drink Taiwanese tea to look at the mountains I climbed today.