Trekking-Day 7-Mt. Karamatsu(10.7km)
We came to Mt. Karamatsu again.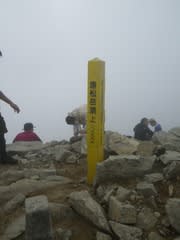 This is the third time this year to me.
Day 7 Mt. Karamatsu 8:22-13:06
Distance today 10.7km, climb 924m, duration 4:43, avg speed 2.3km/h, burned 1,098kcal
Today's route
The weather looked unstable in Hakuba. The rain was expected in the afternoon.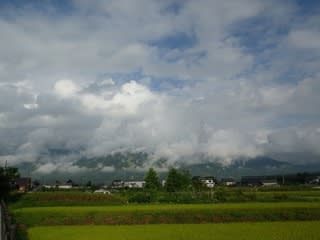 We went up there together with my friend's colleague from US.
8:22 Started at HappoIke hut.
It was foggy, but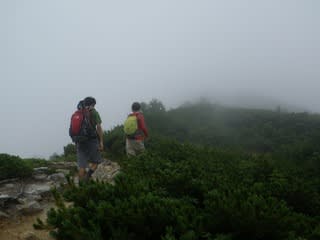 cool enough to climb.
We did quickly and arrrived near the hut at 10:10.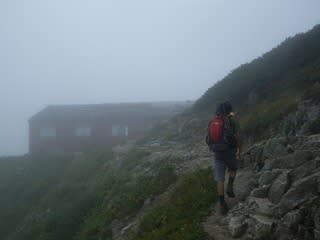 Reached to the peak at 10:26.
Two hours.
It was good not sweating.
Unfortunately the view was not good at all.
On the way back it was still foggy.
We won't complain during climbing in such cool air.
11:50 Ougi snow valley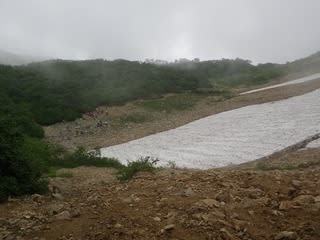 It got hotter after HappoIke.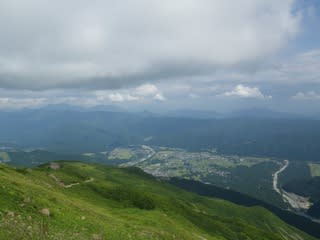 We came back early and took lunch at the village.
The first place was not good.
We wanted to have Ramen, but it was just ended before we got in.
They have a menu of combo with Ramen, but it is replaced with Miso-soup. And the price is same!
We gave up the place and went to Sounds Like Cafe.