Cycling-Day 19-Shirasawa Pass(17.9km)
I rode a bike before the typhoon comes.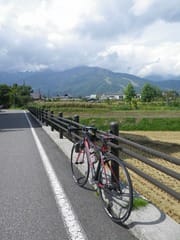 Day 19, 112days for cycling, total distance 7,900.7km, total climb 108,732m
Shirasawa Pass 11:36-12:52 Distance today 17.9km, climb 561m, duration 1:15, avg speed 14.2km/h, burned 437kcal
Gear: GIANT DEFY COMPOSITE SE
Today's route
I expected the heavy rain in the morning and I woke up late, but it was not.
It rained at night and the trails should be muddy. Treking or riding on MTB would not be good anyway.
I believe riding on a road bike is the best choice.
I got started before the typhoon comes. Today's goal is Shirasawa pass.
Nice weather. I cannot believe the typhoon is coming. It was even hot today.
Arriving at the pass in 45 mins. It had taken over 50mins in the past. The new bike took me faster.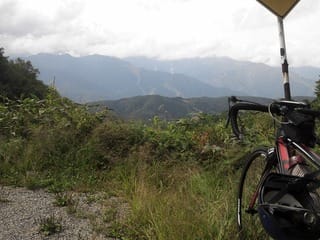 The peaks of Hakuba mountains were in the clouds.
Shirasawa pass is 1000m high above the sea.
A tree is colored already.
It was very cold to descend.
The road is partially rebuilt.
Oide suspension bridge.
I saw black clouds when I came back. The typhoon is really approaching.