Cycling-Day 16-Karuizawa-Tokyo(182.8km)
I visited to my ancestor's grave in Karuizawa.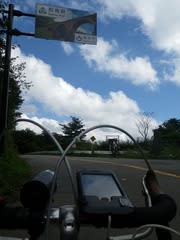 Day 16, 109days for cycling, total distance 7,730.8km, total climb 105,165m
Karuizawa-Tokyo 5:42-18:49
Distance today 182.8km, climb 1,638m, duration 9:17, avg speed 19.7km/h, burned 3,896kcal
Gear: Eurasia 520
Today's route
Karuizawa to Tokyo. I have done this
several times before
, and also visited there
on the way to Hakuba this July
. Today I visited my ancestor's grave as usual.
Started at 5:45, to Tokyo station.
Arrived at Tokyo station in 45 mins. The roads in downtown were very smooth.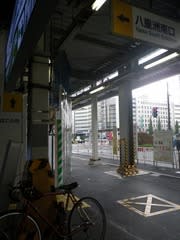 I detached the bicycle here.
I could carry my bicycle from the nearest station to Tokyo, but I actually hate carrying it. I would like to carry the bicycle to the platform if possible (in Japan most of railroad companies require to carry a bicycle detached in a bag).
Getting into the bullet train.
The train was crowded as it is the national holiday.
I slept well to Karuizawa.
8:10 Arrived at Karuizawa station.
Now I rebuilt my bicycle and started again.
At first I visited my ancestor's grave.
Then I took breakfast at my favorite cafe, Pines Lunchonette.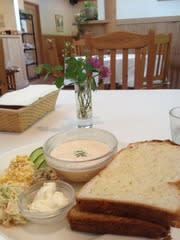 After the breakfast I visited the old town of Karuizawa, that's the origin of my family.
Looks like a single track.
Now I go home. It's 160km away.
9:44 Usui pass.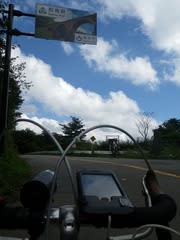 Many cyclist were climbing up there. I did not climb and just descent. I felt a little guilty to them.
As my excuse I was going to run next 160km.
10:07 Red brick arch bridge, called "Megane-bashi", or eye-glasses bridge.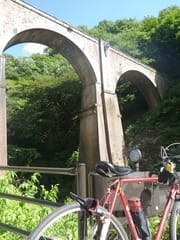 It actually has three spans, not two.
Therefore literary it is not an eye-glasses bridge.
10:30 Matsuida-Myogi ramp of JoshinEtsu expressway.
I usually turn right here to R254, but today I chose to go straight on R18. This road was called "NakaSendo" in Edo era two hundred years ago, one of important routes in Japan.
I saw many people put cameras along the road.
They are railroad manias. There was an SL operation today.
11:05 AnNaka station.
The factory has a kind of "cyber-pank" atomosphere.
This factory is of a mining company, Toho Zinc.
I watched this factory many times in my childhood on the way to my father's old house in Karuizawa.
To me, in my childhood this appearance was very scary.
11:37 Takasaki station.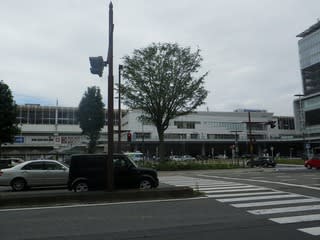 4 hours ago I passed this station by the bullet train.
R17 was very smooth.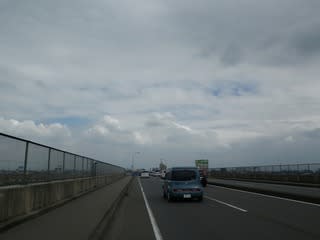 This looks like a freeway. I was wondering it was prohibited for a bicycle, but there was no traffic signboard.
I was afraid of the black clouds ahead.
This traffic signboard says a bicycle is not allowed on the car's lane.
It should run on the pedestrian pave.
But the pedestrian pave was very rough and there were many grasses. Also the pave suddenly ends where lanes merge.
I stepped away to the old R17.
I was approaching to the black clouds, and finally I got wet.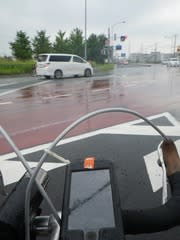 Also a few minutes later it became a squall. I stopped for a few minutes until it passes away.
Nice blue sky, as if there would had been no rain.
16:10 near Omiya.
I passed here more than 8 hours ago by the bullet train.
17:07 passing Arakawa river, entering to Tokyo Metropolitan.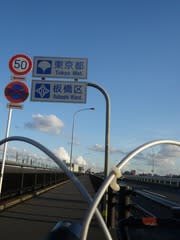 Nice sunset.
It became dark.
Came back at 18:49.
The earlier run was very smooth but later I had to slow down in heavy traffic.