Trekking-Day 6-Mt. Onagi(3.5km)
We did a light climb today.
Day 6 Mt. Onagi 12:42-14:06
Distance today 3.5km, climb 298m, duration 1:23, avg speed 2.5km/h, burned 354kcal
Today's route
It's a sunny day today , too.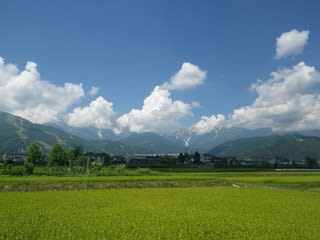 We had hard works
for two days
. Today we took rest and woke up late.
We attempted to go riding on MTB near Amakazari.
We arrived there, opened the cargo space and found.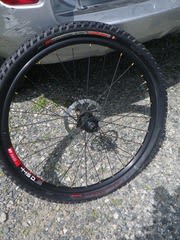 The tire was flat.
It is bothersome to fix here. We probably had to give up riding.
But it's not a good idea to go straight back home.
We realized here is the trail to Mt. Onagi.
Now we started climbing. The climb height is 250m, the standard course time is one hour. We probably need 30mins.
The trail was well-shaded, but the mountain is much lower than the ones we did yesterday.
It's hot.
We arrived at the peak in 30mins.
There is a nice observatory.
We could see Mt. Hakuba-Norikura, where we climbed yesterday.
It became cloudy on the way back, which made us feel cool.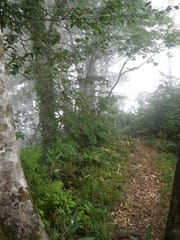 We took lunch at Hotaru, a Japanese buckwheet noodle restaurant