Trekking-Day 5-Traverse Hakuba(19.0km)
We traversed Hakuba mountains.
Day 5 Traverse Hakuba 8:29-17:32
Distance today 19.0km, climb 1,641m, duration 9:3, avg speed 2.1km/h, burned 1,727kcal
Today's route(without Mt. Shakushi
Today, we follow the way
to Mt. Korenge 3 weeks ago
, and go further to Mt. Hakuba, then we descend on Hakuba Daisekkei, or the snow valley.
It is a beautiful day, too.
We go to the very right end mountain, then traverse to Mt. Hakuba, a summit on the right.
Gondola lift operation hours start late after the Summer vacation.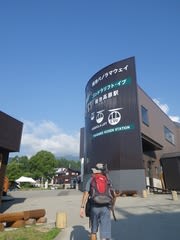 We wanted to leave early.
8:30 Started at Tsugaike Nature Park.
9:10 Tenguppara.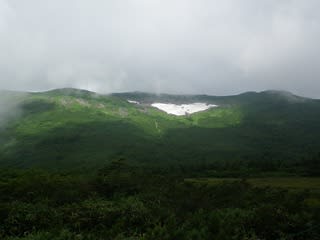 Then we climbed on Mt. Hakuba-Norikura hard, and
Arrived at the peak of Mt. Hakuba-Norikura at 9:51.
A little earlier than the last time.
Hakuba-Oike pound has rich blue water.
We heard loud voices from the pound and...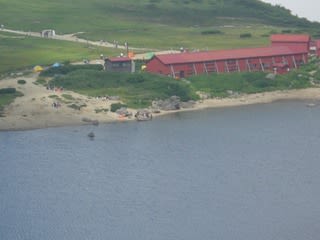 They are swimming.
Swimming is prohibited due to the National Park Act. And it must be very cold!!
We passed the hut and kept hiking.
Beautiful view of Oike pound.
11:45 Arrived at Mt. Korenge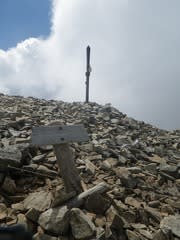 3 hours 15mins so far. Almost same duration as the last time.
We keep hiking to Mt. Hakuba.
Nice view.
12:12 at Mikuni-sakai
It would be new to me further. I used to climb from Renge-Onsen hot spring, walked through to Hakuba-sawa valley.
Also I tried to reach to the peak of Mt. Hakuba.
12:45 Arrived at the peak of Mt. Hakuba.
I was happy to finally be here! I always look at the peak from the village.
Hakuba Sanso hut.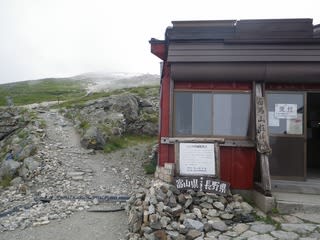 Our plan was originally to go down here, but it was still 1pm and we probably could do something.
Then we went to Mt. Shakushi.
Hakuba-sanso hut was seen in the clouds. Looks like the Potala Palace.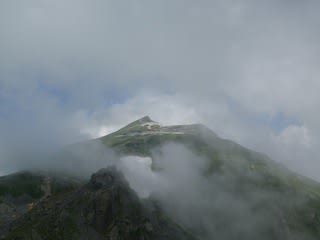 Mt. Shakushi was seen ahead.
The mail trail passes on the west but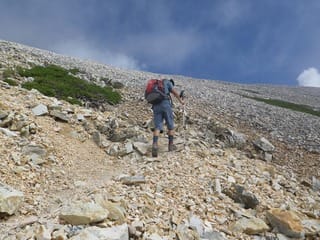 We climbed to the peak.
We realized that Mt. Shakushi is rubbles mountain.
It was hard to walk.
14:16 arrived at the peak of Mt. Shakushi.
We could not see the view around.
The ridge facing to Hakuba village is very steep.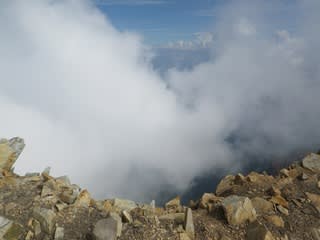 Now I could reach to the three summits of Hakuba mountains,
Mt. Hakuba-Yarigatake in April
, Mt. Hakuba today and this, Mt. Shakushi.
Now descending.
The trail is hard to walk with rubbles.
We came back to the saddle between Mt. Hakuba and Mt. Shakushi.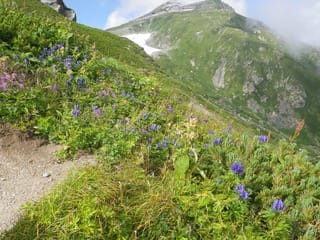 We could see the down trail here, but there is no approach.
Now we have to climb up to the top in 150m height.
15:12 at Chojo-Shukusha hut.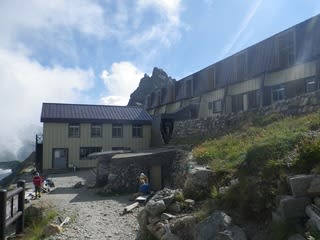 Now we descend.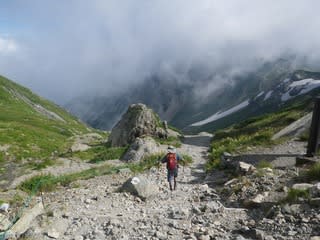 The down trail was very slippery and rocky.
Finally we could look down the snow valley.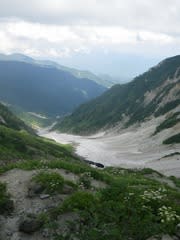 16:15 at the snow valley. We put crampons here.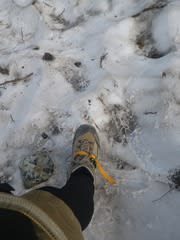 I struggled to walk on the snow valley at the beginning but am adjusted now.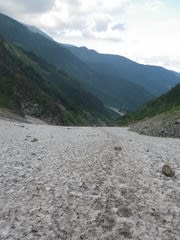 Hakuba-jiri hut.
We took off the crampons just before this hut.
17:00 We left the hut.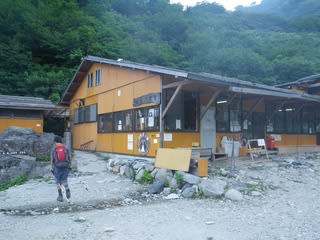 Arrived at Sarukura, the goal at 17:30.
This course we walked usually requires 13 hours.
We did it one day. Now I am very exhausted.