Trekking-Day 2-Mt. Karamatsu
Mt. Karamatsu again, after hiking
last week
.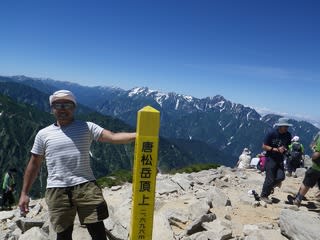 Day 2, 8days for trekking Mt. Karamatsu 7:55-12:40
We attempted to climb up Mt. Korenge, but my climbing mate had a trouble on his knees.
Going to bed again was another option, but I could see the perfect seen.
It's like the summits saying "You will really regret if you won't come".
Now I drove up to Kurobishi.
I started at 7:55, at the same time last week.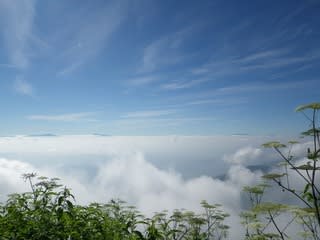 8:22 at Happoike pound.
I would be able to climb up quickly, but it's a perfect weather.
I should take pictures here now.
Hakuba summits have their image on the surfice.
9:14 at Maruyama ridge.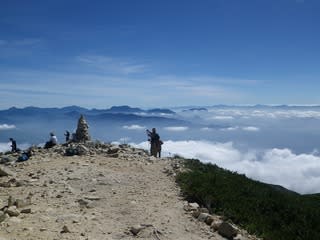 Beautiful clouds sea.
9:42 at Karamatsu hut.
9:55 at the peak of Mt. Karamatsu.
Duration 2 hours same as last week.
I spent almost 20mins at Happoike so te net duration would be 1 hour and 40mins.
Perfect view of Mt. Tsurugi.
I could see the snow valleys
I skied in May
.
The triangle of Mt. Yarigatake.
And Mt. Hiuchi in opposite side.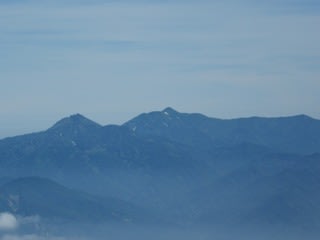 I was there for 30mins.
On the way back it took longer, due to the many climbers.
I found cloudy sky when I came back to Happoike.
I was right to take pictures on the way.
Still long cue for descending.
I got lunch at Huttenzauber.
Korean barbeque for diner.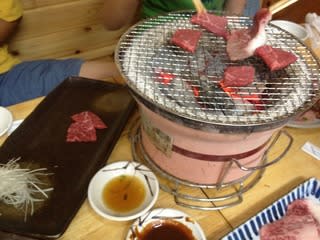 I had a good excuse to take it tonight.