Cycling-Day 12-Nagatoro/Asami shraved ice(210.9/7,163.6km)
Shaved ice, a typical Japanese item in summer.
Day 12, 105days for cycling, total distance 7,163.6km, total climb 98,947m
Nagatoro/Asami shraved ice 5:02-18:05
Distance today 210.9km, climb 3,098m, duration 11:11, avg speed 18.8km/h, burned 5,014kcal
Gear: Eurasia 520
Today's route
Nagatoro, the place I used to go paddling a few years ago.
There is a shaved ice restaurant "Asami Reizo". They make natural ice in autumn and serve it in summer.
I visited and ate several times when I was paddling there. Today I go riding there.
Nagatoro is located in Saitama prefecture next to Tokyo, but 100km away. The round trip should be 200km.
5:06 start.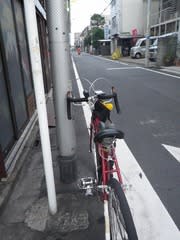 Asami Reizo opens at 10am. They have a long cue to wait for the seats. It would take 5 hours for a ride and I wanted to leave at 4:30.
The way to Nagatoro is almost same as the way to
Hakuba last month.
The course time at that time is my benchmark.
KanEtsu expressway has already had heavy traffic.
I know riding 200km is crazy, but to me it is also crazy to drive such a day.
6:08 Yahara cross point.
Almost same time.
7:18 Kawagoe
Also same time.
8:21 Higashi Matsuyama
Same time.
Getting hot in daylight.
9:30 Tamayodo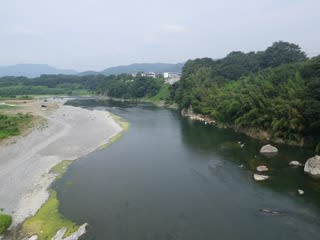 Same time so far.
Now I go to a different way from the way to Hakuba.
On the hill there is a spa I used to go after paddling.
I arrived at Nagatoro. Distance 100km, 5 hours duration.
This rapid is called "Kotaki-no-se" by paddlers. Now a tour boat is approaching.
This rapid was very fun when I was paddling.
10:20 Canue Village.
This is a very convenient facility for paddlers. I used this a lot.
Asami Reizo.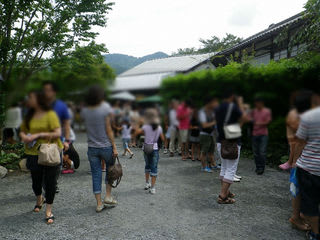 There was already a long long cue. 70mins to be seated. Hmmmm.
But there was another quick cue for to-go.
It took only 2 mins.
Shaved ice!! the cyrup behind is free to use. I could taste different flavors.
Very soft and melty. I love Asami's shaved ice.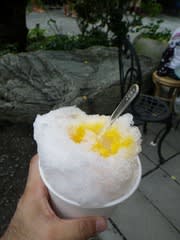 I liked orange and black tea flavor.
I went down to the river, where I paddled before.
No paddler was there. This rapid is called "Spin hole".
There was no padler either at Sakura wave.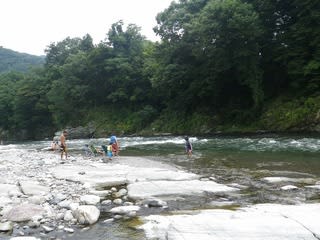 Now I go back home.
I could ride back on the same way, but it is not a good idea to go through Saitama towns, as one of most hottest spot in Japan.
Then I chose a pass to Mitake, where I used to drive when I was padding in Nagatoro and Mitake.
On the way there, I fell down by a gap of a pedestrian road.
I could fell down to the pedestrian road but I skated and scratched my back.
A car stopped by and said "Are you ok?" Probably my crash surprized them very much.
12:07 Chichibu city.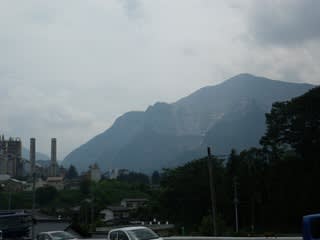 Mt. Bukou.
This is a cement mine. We can see the mines on the surfice.
I am afraid the mountain will be gone in the future after they take cement away.
12:48 a cross point to Ome, all the way along R299.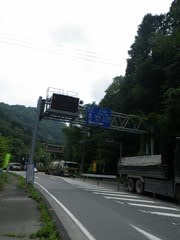 The way here was very tough. There was no shade and hot.
The way from here was slope but it was comfortable with nice breeze.
13:17 Yamabuchi Toge (pass).
It became hot down to Nakuri village.
There was a spring on the road. I wanted to drink, but an old couple took more than 100 litters.
I could run down from here to Ome city, but I chose harder way to Mitake, where I paddled too.
The road was tough. The slopes were not tough but a lot of ups and downs.
14:34 Ikusabata Ohashi (Bridge).
I tried to come here in 1 hour, but it was much harder.
I saw some road riders. Probably this route is popular for riders.
There was no paddler on the river either.
Where are they? Do they go far in summer vacation?
I found a new facility across the bridge.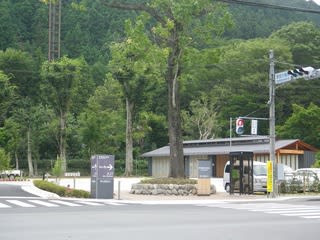 I took a short break at a convenience store and now I just descend along the river from here.
15:23 the start of the river cycling road.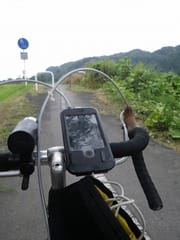 I felt better to come to the usual place, but I was totally exhausted.
16:38 a famous convenience store for bike riders.
Seven-Eleven Fuchu Yotsuya 5. This is very convenient just along the cycling road.
I took a short break and now started for the last 30km ride.
17:37 Futako Tamagawa.
A steep slope from the river, the last slope on the way home.
It was killing me.
18:05 I came back.
This time I was very exhausted. Exhausted more than the ride to Hakuba in 270km.