Cycling-Day 10-Tsugaike Natural Park(49.6/6,929.0km)
I climbed Tsugaike Hill again following
last week
.
Day 10, 103days for cycling, total distance 6,929.0km, total climb 94,784m
Tsugaike Natural Park 8:39-11:51
Distance today 49.6km, climb 1,696m, duration 3:8, avg speed 15.8km/h, burned 797kcal
Gear: GIANT DEFY COMPOSITE SE
Today's route
The duration was not good I expected. I came to climb again to improve the time.
Hakuba-Oike station. The start of the climbing. 9:46
Here I could see Tsugaike highlands.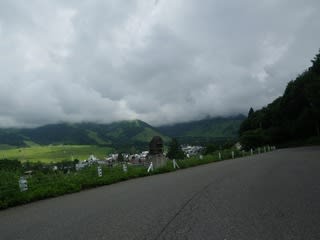 9:24 Gondora station. 27mins so far.
I thought I ran faster than last time.
9:36 Gondora middle station. 39mins so far.
The time was longer than the last time.
10:33 Ropeway station. 1 hours 36mins so far.
10:40 the backcountry entry point. 1 hour 43mins so far.
A little faster than last time.
10:52 arrived at Tsugaike Natural Park. 1 hours 55 mins.
5 mins faster than last time, but 5mins of 2 hours are just difference.
Any effort does not work to my ride. Hmmm.
I went down before I get cold, but
It started raining. And it got heavier.
I had to go down very carefully in the rain and on the wet road.
At the village there was no rain.
I met roadbike riders. I gave them the information about the rain.
My extra effort will not improve my time. I rather ride at will.