Cycling-Day 2/Ski day 60 at Mt.Norikura
My last skiing at Mt. Norikura. Accessed by my bicycle.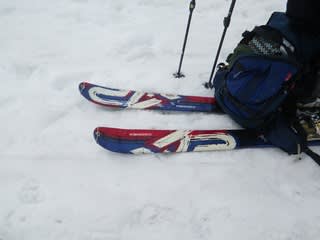 Ski day 60 at Mt.Norikura
60th day for this ski season, 30 days for powder, 24 days for backcountry, telemark for 17 days
Mt. Norikura 8:20-15:10
Gear: Pocket Rocket(Telemark)+GARMONT ENER-G
Cycling-Day 2-Norikura Hill Climb(20.6/6,175.7km)
Day 2, 95days for cycling, total distance 6,175.7km, total climb 79,829m
Norikura Hill Climb 8:17-15:09
Distance today 20.6km, climb 1,138m, duration 2:27, avg speed 6.0km/h, burned 861kcal
Gear: Eurasia 520
Ascending trail
Descending trail
Today I went skiing at Mt. Norikura, as a closing meeting with snow mates.
Foggy at Hakuba.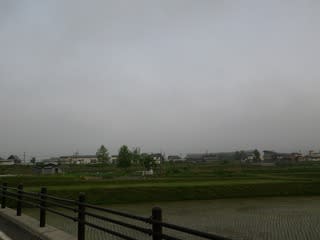 Arrived at the base station. Some of us ride on bus. I chose bicycle
Ski binded on my bicycle. I couldn't bind boots and had to carry on.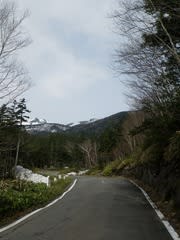 Now climbing. I did the same route
last August
.
The pace is very slow with my heavy backpack.
1 hour and 20 mins to Kuraigahara hut.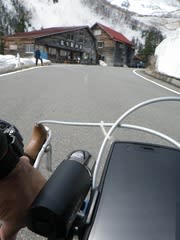 A deep valley of the snow.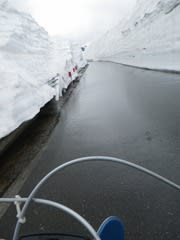 Arriving at the goal after 2 hours ride.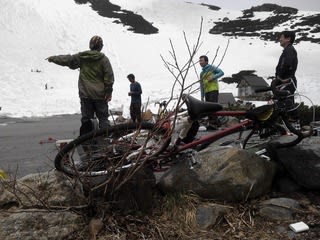 Now we climb on skis.
The top of Mt. Norikura.
Nice ride from the top.
The skis were just found a few days ago from debri of an avalanche. The victim loved this ski very much.
After skiing we had lamb party.
After the party, I gave my bicycle to my friend and I skiied down more.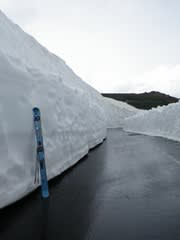 Another deep valley of the snow.
Now we ski down from here.
Good condition.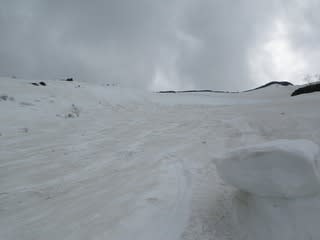 This would be the last run for me.
Thanks to the good season.
At Kuraigahara hut I ride on my bicycle again.
Other riders were very fast.
Nice ride on bicycle and ski, for closing my ski season.
After the runs we had a party again.