Cycling-Day 6-Tokyo->Hakuba(272.0/6,668.4km)
Day 6, 99days for cycling, total distance 6,668.4km, total climb 88,919m
Tokyo->Hakuba 0:12-16:59
Distance today 272.0km, climb 4,252m, duration 14:19, avg speed 19.0km/h, burned 6,218kcal
Gear: Eurasia 520
Today's route
Bicycle ride from Tokyo to Hakuba, that's what I needed to accomplish someday.
Google map tells me the entire course is 250km.
I am a slow rider and I need more than 15 hours to complete.
I needed to do in this season, as the daylights are longest. Otherwise the start or the arrival will be in the darkness.
But I needed to encourage myself when I start. I had stayed away from it because it is a rainy season. That's my excuse.
The forecast said Saturday should be fine. I could finish the job early on Friday. Now I realized it is my destiny to go today.
I took diner early and short rest and decided to leave at 0am.
I could leave Tokyo at night and arrive in Hakuba in daylight, or leave Tokyo in the morning and arrive in Hakuba at night. The roads are not dark in Tokyo.
I decided to run Tokyo at night.
I usually stay very late and get sleep at 2am or 3am. It was hard for me to go asleep at 9pm.
I could not sleep well but I started 0:12am as planned.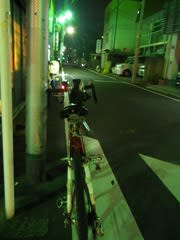 I needed to run through the dark residence area very carefully. A car runs fast, a bicycle may suddenly turn from a corner without flashlight (and using a mobile phone).
I ran carefully to the main rode, KanNana street.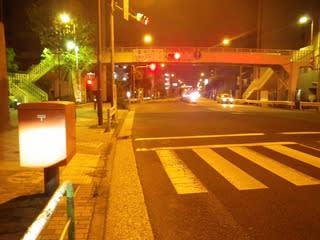 Main roads in Tokyo are well-lighted and easy to run. It's more safe if you look visible well.
Traffic signals did not work very well. They always turned red at every stop. The average pace remained slow.
1:18 Yahara crossing.
KanEtsu express way is very close. I was surprised I could come here in one hour. It may take more than one hour for driving if the traffic is heavy.
2:19 Kawagoe.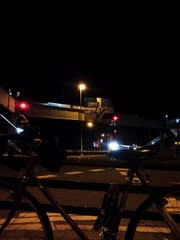 Now I could run faster, as the traffic lights were all green.
3:20 Higashi Matsuyama.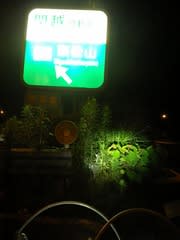 The predawn at Ranzan.
4:27 Tamayodo
The morning. I took a rest as I became hunger-knock.
6:23 Tomioka city.
It became hot. It was cloudy and cool enough when I came to Matsuida.
8:09 Yokokawa station, just before Usui pass.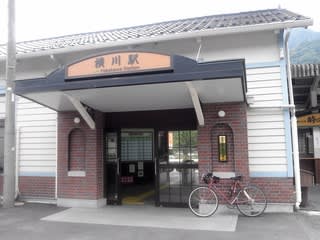 Now I climb Usui pass. I know this route very well as I climbed here two years ago.
The slope is not too steep. I could run with higher gears like this.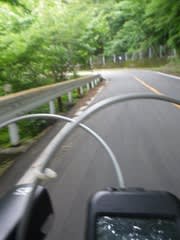 9:41 the peak of Usui pass, just before Karuizawa.
10 minutes more than the last time. I should be exhausted after 160km running.
Cool and nice breeze in Karuizawa.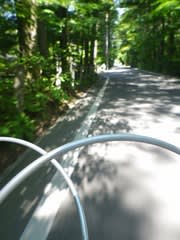 I have my ancestors grave. I visited there and went to my favorite cafe after it.
It was crowded and I could not stay there.
I bought a sandwich at other my favorite bakery at Oiwake, at 10:59.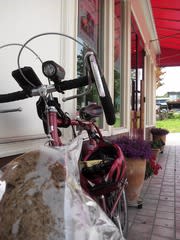 Oiwake is the highest point through the route today. 1008m elevation above the sea.
Now I descend all the way to Shinonoi for next 40km.
This is nice, but this is awful if I return from Hakuba to Tokyo. This 40km will be the nightmare.
12:09 Unnojuku, an old town well preserved.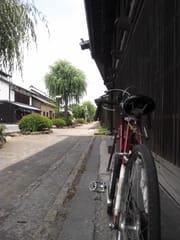 13:13 Sakaki town.
I found a good kayaking spot. It looks a nice wave.
13:47 Koshoku IC.
I checked the alternative road
two weeks ago
, but the road was not convenient for going to Hakuba. I chose R19.
Komatsubara tunnel has a narrow shoulder and lots of traffic. It looked very dangerous but I found a nice side road on the right.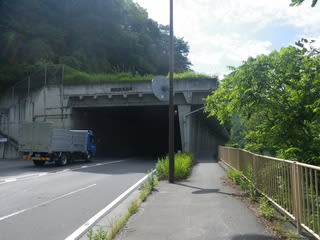 R19 has side roads. It was nice for bicycle, but the side roads may be on the right or on the left. I had to change the lane many times.
14:57 Hakuba Nagano road.
I have already checked the road two weeks ago. Now Hakuba is not far.
15:32 An old official residence of Nagano governer.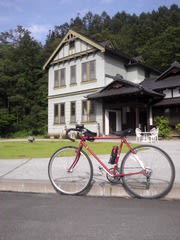 16:59 finally arrived at Hakuba.
270km from home in Tokyo, total work hours 17 hours, and net running hours were 14 hours 19mins. I totally exhausted, but I made it.