Ski day 59 at Mt.Fuji
59th day for this ski season, 30 days for powder, 23 days for backcountry, telemark for 16 days
Mt. Fuji 6:20-15:50 Gear: Teneighty GUN+GARMONT RADIUM
For closing my ski season, we climbed up Mt. Fuji.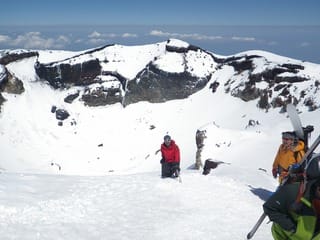 I have one or two more days for skiing. For closing my ski season, we climibed up Mt. Fuji as usual with
BanYa tour
.
For adjusting myself to altitude sickness, I went to the start point (at 2400m level above the sea) Friday night. Beautiful night view of Suruga bay.
I could see the shape of the bay.
I also could see many stars. At the parking lot there were many people who took pictures of night views of the bay, and the stars. They were wearing red headlights. It is impressive to find such a tool. I hesitated to walk with my white headlight.
It was cold, 4-5 celsious. It was cold to sleep, as I left down my jacket and warmer sleeping bag.
The morning. Mt. Fuji shadowed the ground with its shape.
Now we started heading to the peak, 3776m above the sea level. We climb 1376m height.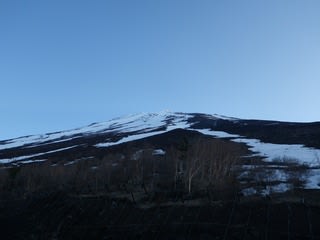 At 6:20am we started.
Climbing from the clouds sea.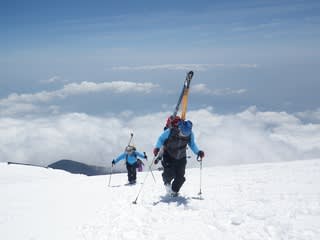 As we climbed, the air became thinner.
At 12 o'clock we arrived at the ridge. People were digging the hut out.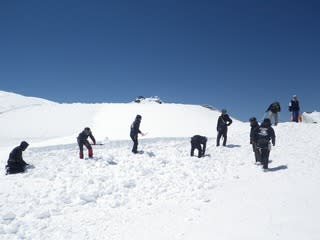 That was for the TV shooting on Monday for the annular solar eclipse.
We keep going to the highest peak.
At 12:45 we arrived.
Many people were there.
This is the third time to come here, after the
last one two years ago
.
The crater.
Seems more snow than usual. Southern Japan alpine mountains were seen.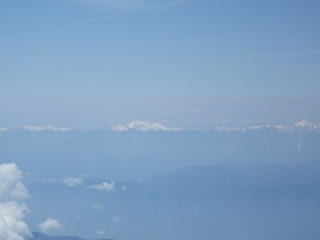 Onigiri, or a rice ball for my lunch.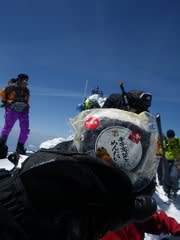 Here we ski down.
For the first run.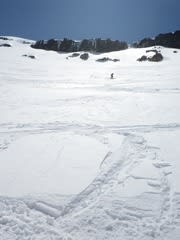 Nice snow.
We climbed back.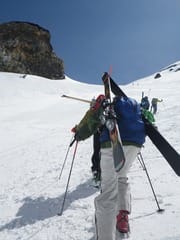 Then we skied down all the way.
I love this terrain.
The condition was the perfect film crust.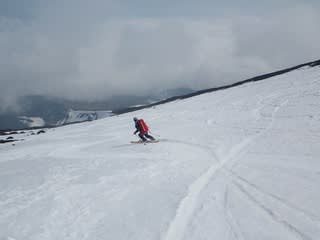 We could almost skied down to the end.
I love skiing at Mt. Fuji.
I miss the skiing season.