Ski day 58 at Hiuchi-Day2
58th day for this ski season, 30 days for powder, 22 days for backcountry, telemark for 16 days
Hiuchi 7:50-13:45
Gear: Teneighty GUN+GARMONT RADIUM
Continued from
Ski day 57 at Hiuchi-Day1
White snow and blue sky. The day 2 for the powder days.
Beautiful morning.
It was cold in the morning, but it would much warmer.
We could see Hakuba mountains.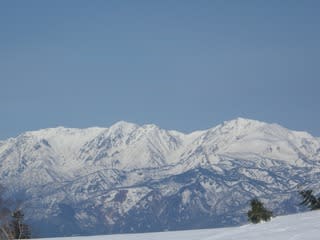 We were climbing up to Mt. Hiuchi, but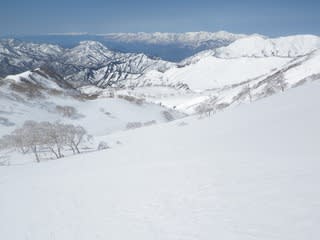 The south terrain looked very good.
We skied here before it became warmer and the snow got worse.
Nice powder snow!
Ice coated trees in the middle of May!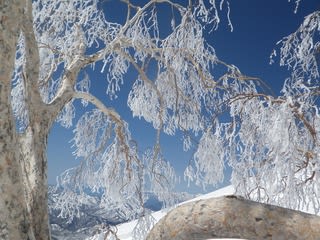 We started climbing up to Mt. Hiuchi again.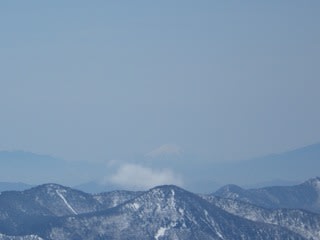 We could see Mt. Fuji far far away. It is surprising to see Mt. Fuji. It is 180km away from here.
The peak of Mt. Hiuchi.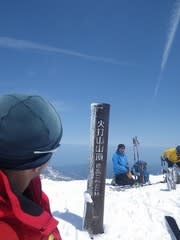 We enjoyed the 360 degrees view.
We skied from Kage-Hiuchi, the next peak to Mt. Hiuchi.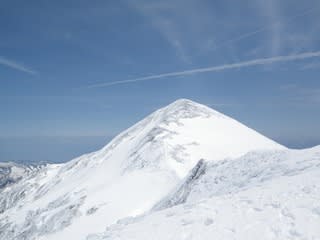 We looked back at Mt. Hiuchi.
The terrain was hard first, but it was fantastic just below the hard top.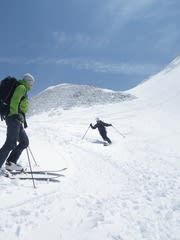 We were afraid of the wet snow which stops us, but the condition was not bad in lower area.
We crossed a deep volcanic flow.
Mt. Hiuchi and the valley we skied down.
Nice area.
Very pastoral scene. We cannot believe we were skiing on the powder snow an hour ago.
Beautiful green young leaves.
There was the snow just before the goal.
We enjoyed two powder days!