Ski day 51 at Tateyama -Day 2-
51st day for this ski season, 28 days for powder, 16 days for backcountry, telemark for 15 days
Tateyama 9:20-14:45
Gear: Teneighty GUN+GARMONT RADIUM
Continued from
Ski day 50 at Tateyama -Day 1-
It was cloudy on the day 2 at Tateyama, despite of the forecast.
Early departure would be hard for our climbing skins on icy condition. We stayed at the cabin for a while and left at 9am.
We came up to Bessan peak.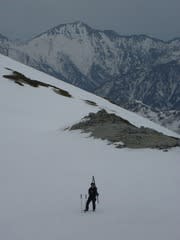 We now descend to Bessan sawa (valley).
The top was icy, and average angle is 45 degrees. Very scary.
Now we go.
From the middle of the valley, it turned nice corn snow.
The snow was too melty at the lower valley.
We started climbing again at the cross point with Tsurugi sawa.
It started raining. The forecast said it was sunny. Hmmm.
Heizo dan valley. It was covered by debri.
We found a rock ptarmigan.
Now we came back to Tsurugi Gozen peak.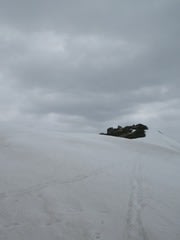 And I found my binding was not working well.
We planned to go down to a cabin, leave stuff and climb again, but we had to stop now.
The last run was also good.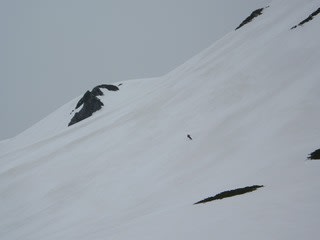 Kenzanso cabin.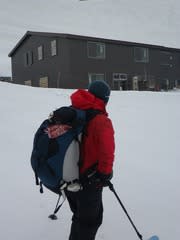 A red pennant on my bag is Kenzanso's that I bought 9 years ago.
At that time the cabin was old, small and cold.
It was destroyed by too much snow and rebuilt 5 years ago.
I should say this is a lodge, not a cabin any more.
It became sunny in the evening.
We should climb again!
It is nice to look up our trails from the cabin.
The cabin was very comfortable. We felt as if staying at a nice lodge in town unless we see this scenary.
Continued to
Ski day 52 at Tateyama -Day 3-