Ski day 49 at YariOnsen/Hakuba-Yarigatake
49th day for this ski season, 28 days for powder, 14 days for backcountry, telemark for 15 days
Hakuba Yarigatake 6:15-17:00
Gear: Teneighty GUN+GARMONT RADIUM
We skied down on Oideppara, a huge slope from Mt. Hakuba-yari.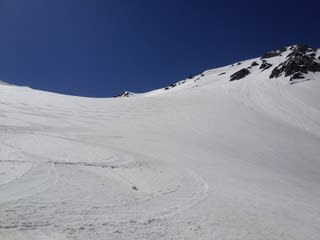 The first day of the Golden week. (Golden week is a Japanese holiday season with several national holidays)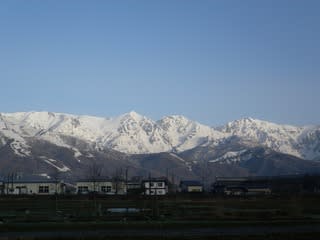 The weather looks fine today.
We tried Yari Onsen (a hot spa).
Woke up at 5am and started climbing at 6am.
We should be able to expect skiing down on Oidappara and reach the peak of Hakuba-Yari.
There were many cars at the parking lot.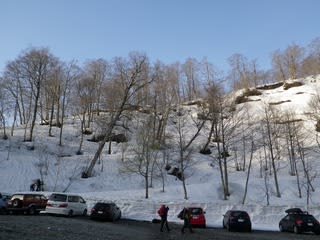 Most of people seemed going to Hakuba Daisekkei (snow valley) Through Obinata to Yari Onsen.
We left beer cans at Yari Onsen and climbed up on Oideppara (a huge slope).
This year there is much snow, which allowed us to climb up on skies.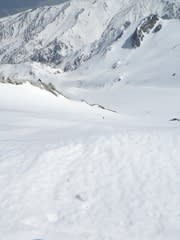 I slipped down 10m just before the ridge. Hmmm. I got some troubles with my heels and leg cramp, and after that...
We arrived at the peak of Hakuba-Yari.
Tateyama summits were seen beautiful.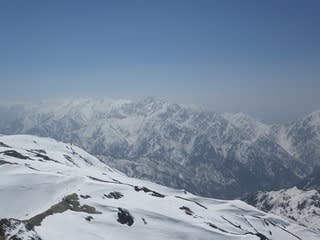 Now we go down on Oideppara.
The maximum angle should be more than 45 degrees.
Nice slope!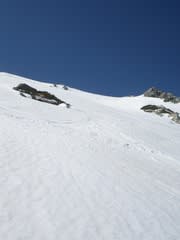 It's a shame to leave. We came down to Yari Onsen.
Not like usual we had to cross the water flow to the spa.
Cheers!
The spa was hot. We cooled it down with snow. The climbing to Obinata was awful. We all were exhausted with the spa and beer. We found a group to bring a beer server and a keg to the ridge.
They served us a glass of beer. You should not expect a draft beer in such a place. The total climb was 2000m height. It was long but a nice day.
Continued to
Ski day 50 at Tateyama -Day 1-