Ski day 48 at Garagara-sawa/HappoOne
48th day for this ski season, 28 days for powder, 13 days for backcountry, telemark for 15 days Garagara-sawa 8:30-13:15 Gear: Teneighty GUN+GARMONT RADIUM HappoOne 14:00-16:00 Gear: Pocket Rocket(Telemark)+GARMONT ENER-G We skied on Garagara-sawa.
Beautiful morning.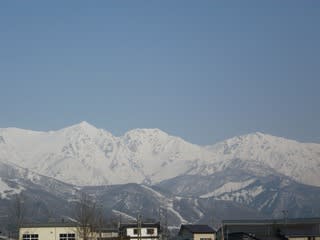 The forecast says it would be hot today. The snow melted in lower area.
The lower area has already been closed. Today we would go back country skiing. We skied in the ski area before ascending.
The condition was hard enough to ski. It was nice. We picked our bags up and started climbing.
A couple took wedding pictures.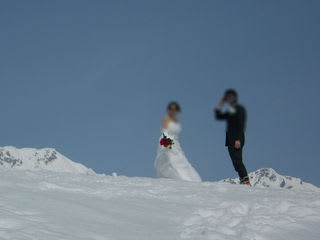 Nice contrast with a white wedding dress, the snow and the sky. Beautiful Hakuba summits.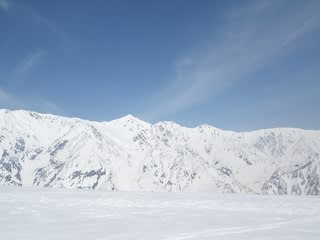 Panorama picture.

Now we go down to Garagara-sawa.
I like this steep slope, but the condition was not good.
The lower valley had much debri and hard to ski down.
The biggest challange of today.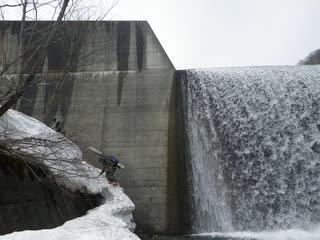 We have to cross this river. I tried to find an easy place, but couldn't. This dam should be the easiest place. After crossing the river. I got wet.
The road to the end had little snow. I had to remove skies several times.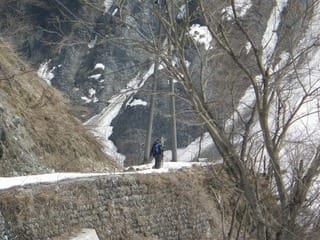 After the backcountry ski, I came back to the ski area with my friend Yoshi.
We enjoyed telemark skiing until the close time.