Ski day 38 at CharMont
38th day for this ski season, 22 days for powder, 9 days for backcountry, telemark for 12 days
CharMont 8:30-12:30
Gear:
BanYa
M1102+GARMONT RADIUM
A weekday powder skiing.
Last night the forecast said the fresh snow in 20-30cm at CharMont. It would not snow much in Hakuba. Then I should go to CharMont. Probably the last powder snow in a ski resort.
I got up at 5.30, and left Hakuba at 6.15.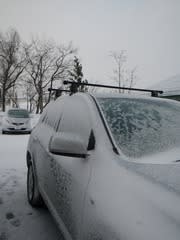 It did not snow much in Hakuba.
The sun had already risen at 6.15.
The road was covered with the snow. Probably this will be the last time to see the road covered with the snow.
I passed Nou IC and had to go to the next IC, Nadachi-Tanihama.
30km loss for a round. Hmmm.
I could be CharMont in time. I gotta go now.
Today is the day.
Flatlight up there. It is good for no track, but I could not see the surface.
I could see it after several runs and several trails.
A local person asked me about my
BanYa
ski.
Then I ran together.
A few years ago I came here and knew the paths to the good powder zone, but I forgot them since I have been to Cortina in these days.
He showed me the paths. Thanks.
After a coffee break we ran until the time limit of my half-day ticket.
Very light powder snow and without hitting the bottom.
I enjoyed the last powder.
I took Sushi for lunch. Japan Sea side is a good place to have Sushi.
While I was running on terrains I lost my Thermos bottle. I had to buy a new one.