Ski day 33 at Okuhiyo
33rd day for this ski season, 20 days for powder, 9 days for backcountry, telemark for 9 days
Okuhiyo 10:00-14:00
Gear:
BanYa
M1102+GARMONT RADIUM
Back country ski, in a long time.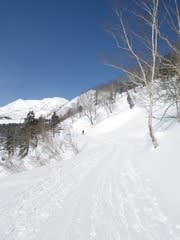 We went to an area called Urahiyo.
This is the first time to go to Urahiyo in this season. It is unusual not to go until March. Last year I have been there for 5 days.
This year, we could enjoy powder skiing in Cortina.
A long cue for ticket windows.
Today I rode on
BanYa
. I wanted to come here with this ski to Urahiyo.
This ski is very light. Long and very fat but it weighs as 160cm skies.
Nice weather.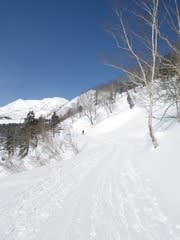 But very hot. T-shirts was good enough.
We went up to Tenguppara before Urahiyo. We tried a long shoot of "Okuhiyo"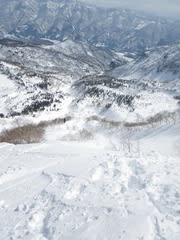 Looks very good.
It's very nice weather. We could see Hiuchi yama, (a white mountain far).
White snow, blue ski and red
BanYa
ski with nice contrast.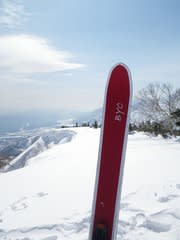 We found the shoot had very wet snow. Then we went down on the north side.
Nice powder!
We climbed up to Urahiyo.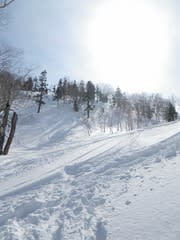 There were many traces already, but we went down there.
The upper half was icy, but lower was good.
On the way back, we worried about the wet and heavy snow, but it was not too bad. That was because there was not deep fresh snow.
Today we took video in a long time.
Last year I upgraded to Windows7 and the import software from my video camera was not compatible. Now I found the way to import.