Ski day 31 at Charmont Hiuchi
31st day for this ski season, 19 days for powder, 8 days for backcountry, telemark for 8 days
Charmont 12:30-15:00
Gear:
BanYa
M1102+GARMONT RADIUM
I went to Charmont Hiuchi, in a long time.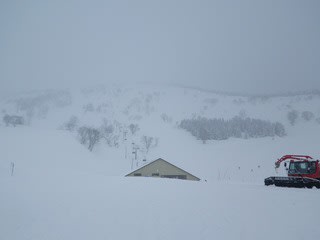 Last night some snow was forecasted on the Japan Sea side, but there would be 10-20cm falls in Charmont.
I assumed it would not be worth to go, then I worked late.
In the morning, I checked the web site and found the snow fall was 30cm!!
I could not predict it. It was already too late to go there.
But the blog said the late comers were lucky on Sunday while it kept snowing all day.
Now, let me think. It is still snowing. It's Monday and there are fewer junkies. Is it worth to go in the afternoon?
It was very nice weather in Hakuba, for orinary skiers. I left sunny Hakuba at 10:30 to Charmont.
The road to Charmont. It was snowing very much. I could not believe it was sunny in Hakuba.
A parking lot in Charmont. There were fewer cars. They finished the powder and already gone?
But it was still snowing. Now I would try one or two, and if it would not be good, I should wait at the rest house until the condition would be recovered.
I could see the main course was already finished, but there were still some fresh powder area.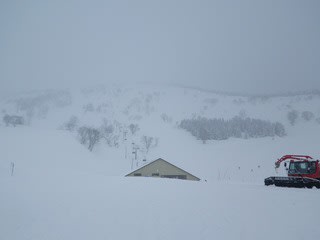 Now I try one run.
The upper site was flatlight.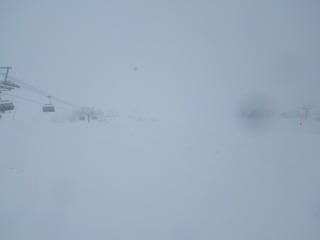 It was good not to see the surfice, I just felt the soft snow.
For the first run, I enjoyed some.
And I found the fresh snow.
I got it.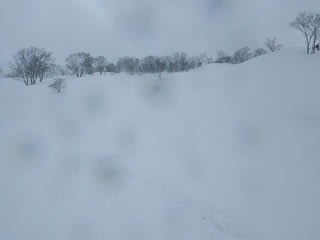 I enjoyed many runs there.
Most of people finished their own with a half-day ticket and already have gone. There were few skiers and boarders.
The powder was still there.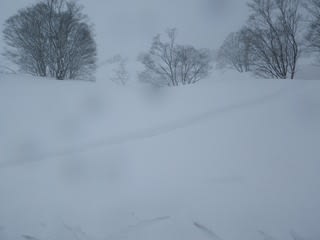 The approach already became rough, and I was very much satisfied with the runs for 2 hours and half.
BanYa
ski was good fit with Charmont's powder. It can run even in rough conditions.
As the last powder in February, and perhaps the last good powder in this season, it was worth to drive over 80km from Hakuba.
I wanted to go to Tokyo from here, but I left some stuff in Hakuba.
Then I went back to Hakuba again. Well I feel Hakuba like a home.