Ski day 29 at HappoOne
29th day for this ski season, 18 days for powder, 7 days for backcountry, telemark for 7 days
HappoOne 10:45-14:30
I went to a new model ski sampling event at HappoOne.
It did not snow last night. Today I just go as a regular skiing.
A new model ski sampling event is that you try many various ski sets for 500yen only.
The first one was OGASAKA SL+FL.
Ogasaa is a Japanese ski brand and famous for basic skiing.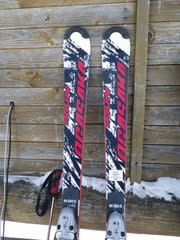 This model seems very popular for skiers and I was asked by someone.
The ski moves very quick. It responses to my initiating my body.
Usagidaira, today.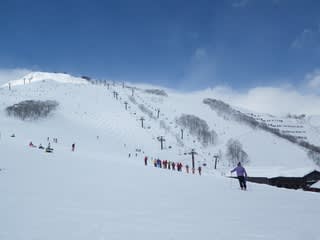 The trial is allowed for two or three rides for each. I just rided only one run on Riesen course.
The next one was Fischer Hybrid, an all-mountain ski. It has a mechanism to switch between camber and rocker.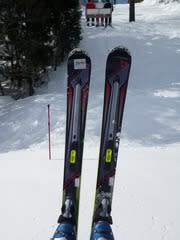 An advanced technology...Hmmm.
The first run was with camber on Panorama, then I switched to rocker.
I enjoyed camber run, but I could not see the difference with rocker.
The ski was heavy, probably due to the mechanism. I don't want to bring it to the mountain.
The next one was a fat ski of Liberty. The west width is 15cm!
I knew it was not good to ride on this in today's condition, but I just wanted to try.
I imagined this shape made me turn too much, but in the reality I could not turn without intentionally turn.
The run was not good on the groomed course.
But it was very nice in the powder snow.
I should ride on it yesterday.
The next one was an all-mountain of Liberty.
It uses bamboo for its core material.
Nice pressure on it in the powder snow. Releasing the edges after turning seemed weak.
The next one was Reism SL-C. I wanted to ride on this brand.
The first one was for all-round.
Very sharp and quick. But the ride was not good for bumpy area. while Reism is famous for mogul skiing.
The next one was a mogul ski of Reism, the name is KO-B (Kobu means bump in Japanese).
I went to Usagidaira, a mogul zone.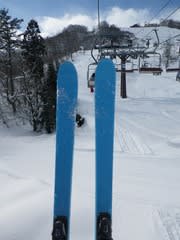 This ski was very good for mogul. Quick response and easy to turn.
The trial was until 2pm.
I wanted to try a technical ski of OGASAKA, but it was used by someone else.
HEAD Supershape, the one I asked as "technical ski".
The runs so far were very fast, but I ran very slowly on this ski, to turn with carving.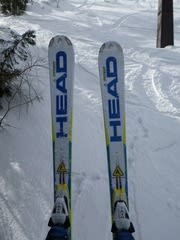 This was also good for technical skiing. On the steep terrains it did not slide or be blurred.
I enjoyed the trial without lunch until 2.30pm.
All skies were new to me except the fat ski of Liberty.
I found another fun with them.
But all were heavy. One reason is for the rental binding, but I realized how
BanYa
skies are very light.
Very late lunch at Bankokuya, a Thailand restaurant.
My ex-paddling mate visited me.
I enjoyed the nice runs.