Ski day 26 at Hakuba Cortina
26th day for this ski season, 16 days for powder, 7 days for backcountry, telemark for 6 days
Hakuba Cortina 8:30-12:00
Gear:
BanYa
M1102+GARMONT RADIUM
The powder day again in Hakuba Cortina.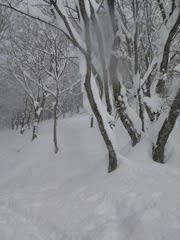 It rained last week. The soft surfice was destroyed and I could not believe it was covered enough. Not expected much but we came here anyway. Facebook site said the new snow was 20-30cm.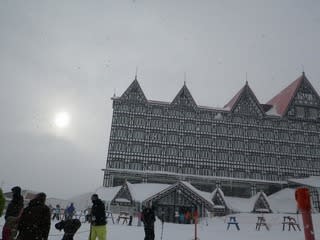 Powder junkies were gathering.
Usually we put ski sets or boards at the lift, the staff set the rope and the boards in order again, but today they did not.
Then we became behind.
The condition was the best. We never hit the bottum.
The snow was light.
The first lift was very busy on the national holiday.
Then we could not run many, but we enjoyed very much.
For lunch we went to
Frontier (Japanese only)
.
A new menu, hamburg steak. Very nice!
After skiing, I went to
Rapie
.
I decided to sell the powder ski Salomon GUN Lab, that I bought in 2005.
I rode this ski 26 times.
I did not ride many and it's pity to sell, but it cannot beat a rocker ski or a fat ski more than 15cm width.
I bought a new ski
BanYa
M1102 and have not used it recently.
Nice ski, though.
Buy it at Rapie, a used section.