USA-day 12/Ski day 14 at Jackson Hole
14th day for this ski season, 7 days for powder, 5 days for backcountry, telemark for 3 days
Jackson Hole 10:00-16:00
Gear:
BanYa
M1102+GARMONT RADIUM
Continued from
USA-day 11/Ski day 13 at Jackson Hole
Today we came to Jackson Hole again, but it looked different.
The tram was suspended due to the strong winds.
The information desk told me it would be open but the time frame would be unknown.
We looked around a souvenir shop and should go to a diffenrent place if the tram were still suspended.
We came back to the base station and found it was opened.
It's good the tram started.
Then we came up to the top, but...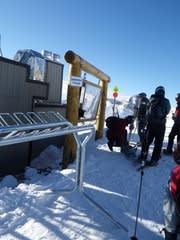 The winds were very strong. The map was swinging.
The winds packed the snow hard.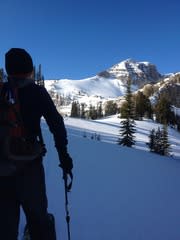 Well, we should walk further anyway.
It is still fun to walk in such a beautiful scene.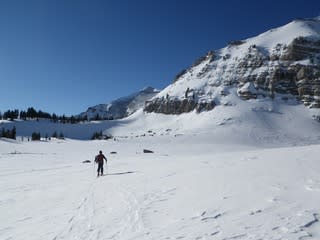 Nice view.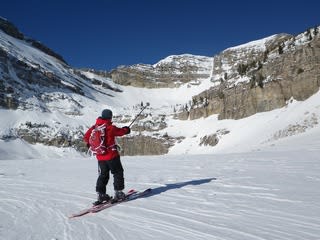 We made one run.
It is dinamic to ski in this place and we made nice trails, but the slope was hard.
Then we came to the place we wanted to go down,
The slope looked hard and disconnected.
Now the time to go back.
The shaded area looked good, but..
No powder there.
We came back to the ski area and went down the courses.
The terrains were nice with fewer people.
Nice three days in Jackson Hole.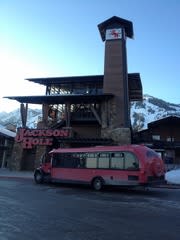 Jackson Hole, I love it. Thanks to my friend who drove us here.
For diner we went to an Italian restaurant.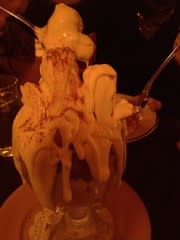 This is named "Teton Tiramisu". It's shape is Grand Teton.
Nani's Cucina Italiana
242 N Glenwood
Jackson Hole, Wyoming 83001
+1-307-733-3888
Continued to
USA-day 13-Grand Teton
.