USA-day 11/Ski day 13 at Jackson Hole
13th day for this ski season, 7 days for powder, 4 days for backcountry, telemark for 3 days
Jackson Hole 9:30-15:30
Gear:
BanYa
M1102+GARMONT RADIUM
Continued from
USA-day 10/Ski day 12 at Jackson Hole
Today we came to Jackson Hole again.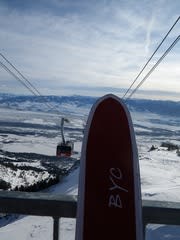 We went out of the gate again.
It was very cold at the bottom, but it was very warm on the top.
It was over 0 celcious.
We are worrying about the powder snow condition.
We went down a little and climbed up.
We found big foot steps.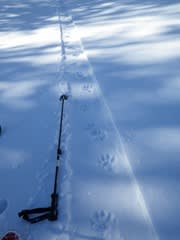 My friend told me it should be a mountain lion.
Now we went down.
The slope got the sunshine and the snow was melty, but still good powder.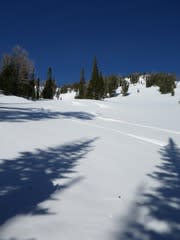 We went down nicely and came to the end.
It looked like a cliff there.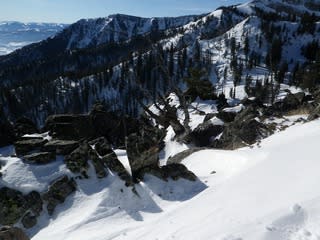 Now we began climbing.
The trail we went down this time was almost same as we did yesterday. It was still powder.
The end we stopped a half hour ago is the cliff. We found it during skiing down.
We enjoyed powder skiing again, although it was a short run.
We are still worrying about the condition tomorrow.
In the afternoon my wife joined and skiied on the terrains.
At the beginning we visited Corbet's Cabin.
The waffle is recommended.
Very tasty, but it is very sweet for Japanese.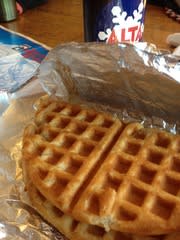 Nice skiing.
Very comfortable skiing with vacant tarrains.
We went to a Chinese restaurant for diner.
Ocean City
340 W Broadway
Jackson, WY 83001
+1-(307) 734-9768
Continued to
USA-day 12/Ski day 14 at Jackson Hole