Ski day 19 at HappoOne
19th day for this ski season, 11 days for powder, 6 days for backcountry, telemark for 5 days
HappoOne 8:15-14:15
On Friday it snowed in Tokyo.
The highway to Nagano was covered by the snow.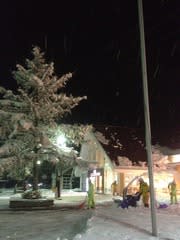 Yokokaha Service Area had some snow.
In such a day it does not snow in Hakuba.
Today I went to Happo. I started early.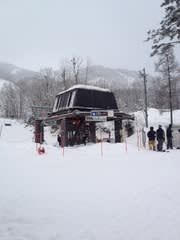 The first run was on Riesen, but I wanted to climb up.
Grat. It had been closed but it would be open tomorrow.
Today is the last day here as a backcountry skiing.
Climbed up.
It was not good enough for Alpine skiing, but nice for telemark skiing.
I attepmted just one run, but my snow mate came up. We climbed up together.
The patrol team was coming for tomorrow.
The second run was also nice.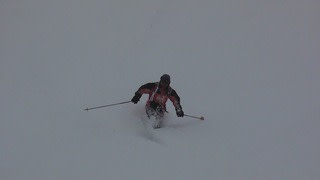 Had a short break at Panorama.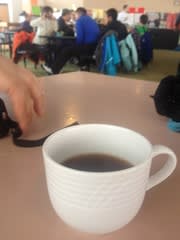 Free coffee is provided here until 10am. We came just before the time.
For lunch we went down Riesen and went to an Austrian restaurant
Hüttenzauber
.
Gulasch was good.
I went up again for picking up my car at the different base.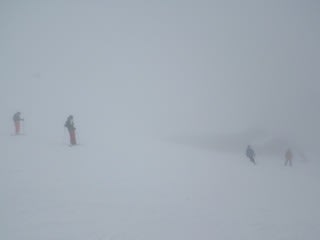 Very fogy at Usagitaira.
I was almost ending up but I found the snow mate were coming back.
And we skiied together again.
We found a mascot of "Garigari-kun", a main character of a very famous Japanese ice candy bar.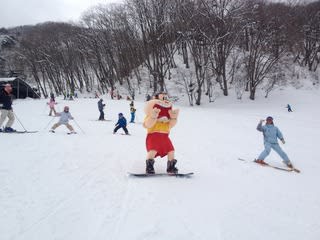 Sooner, he was surrounded by people.
We got a sample of the ice candy bar.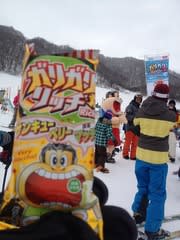 Chinese for diner.