Ski day 18 at HappoOne
18th day for this ski season, 10 days for powder, 6 days for backcountry, telemark for 4 days
HappoOne 11:00-13:30
Today I went to a test ride of
iD One Ski
at HappoOne.
iD One Ski is famous that Aiko Uemura, a mogul athelete is riding on.
I hardly ride on such ski sets. It is very new to me.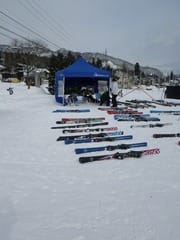 1,500yen/day for free riding. 1,000yen ticket for prior application is also available.
They give us a coupon of 1,500yen. Therefore it is a free ride if you buy something there.
The first one was "sr-nx".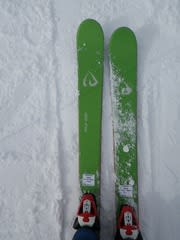 Very easy and free-riding ski.
It has a good response when I go into rough area in high speed.
Very interesting to me, as I hardly ride on such category ski sets.
I realized that how much different I am skiing.
The next one is "Freeride PC"
PC means "Powder Control", designed for powder riding.
It has closer impression to my ski sets than "sr-nx".
The width "126-89-116" is still thin for powder riding, though.
It is not possible to run fast at Hakuba Cortina Hieda #2 or #3 on this ski.
It looked good on rough area.
The last one was a mogul ski, that's the basic of iD One.
"Mogul Ride SE"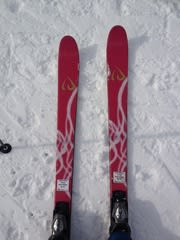 Wow, very thin!!
The width is "95-61-85". It's half of my fat ski
BanYa
M1102!!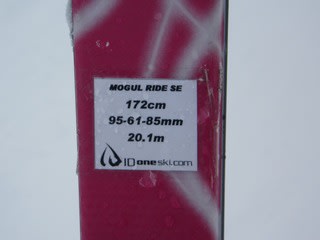 For a short break I ate fried curry bread at Usagi Taira Terrace.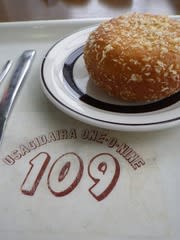 I hardly eat in ski areas in Hakuba. This is also new to me.
For riding on the mogul ski,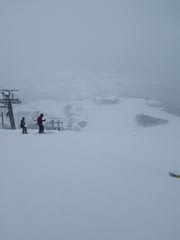 Usagi terrain got flatlight and I could not see gaps.
It was very natural ski for riding at normal speed.
It was pity not to ride much faster, where the ski really has the spec.
Most of upper area got flatlight and we finish then.
We got late lunch at Coffee Senju.
Buckwheat noodle for diner.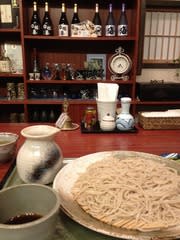 Foreigners' (probably Aussie) group almost occupied the restaurant. It's good to have them. THey looked enjoying Sake.