Ski day 16 at HappoOne
16th day for this ski season, 9 days for powder, 6 days for backcountry, telemark for 4 days
HappoOne 8:40-13:00
Gear: Pocket Rocket(Telemark)+GARMONT ENER-G
Continued from
Ski day 15 at Mt.Hakuba-Norikura
Today I went to HappoOne.
I attempted to go for the first run on the groomed Riesen, but I woke up at 6:30 and found it snowed a little.
I looked out at 7am again and it started snowing much. It looked like good snowing for telemark skiing.
The lift was not croweded in the bad (for powder junkie, "good") weather.
I went to Skyline course.
Alpen skiing would hit the bottom, but it was good for telemark skiing.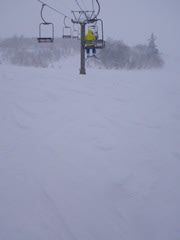 Early lunch at Bangkok-ya, Thai food restaurant.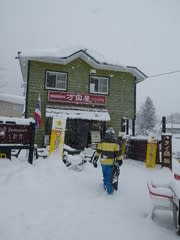 A lodge located at Nakiyama is closed in this season.
This lodge served good bread called "Naki-bread".
I was here
last february
and ate the bread. It is pitty to lose it.
I made several runs and ended up.
It was good powder skiing that I hadn't expected.