Taiwan -day 4-Taipei
Continued from
Taiwan -day 3-Taipei
The last day in Taiwan.
For the breakfast we go to a soy milk restaurant nearby our hotel.
The restaurant, Fù háng dōu jiāng, is very popular and very much crowded.
A long long cue. My wife says the waiting time can be more than an hour if the cue reaches out of the building.
It takes an hour, indeed.
The restaurant inside is also crowded.
This is a salt soy milk soup.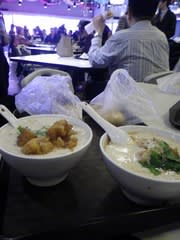 A cup of hot soy milk soup with special sauce. The sauce probably has vinegar, and the soy milk solidities and becomes tofu.
Very nice.
Also we take two pieces of bread wit cyrup(rear).
This restaurant has many local guests and is not easy for foreigners.
I tried to order in Chinese many times and always failed.
Today, finally, I successfully ordered the soy soup. BUT failed to order the bread.
One step up, one step down.
It tooks many time but we go more before check out.
Wistaria Tea House
is an old tea house in Japanese style when Taiwan was occupied by the Japanese empire.
With rich and quiet atmosphere we enjoy drinking tea.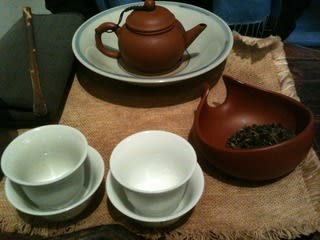 Check out time is approaching, though.
We go back to the hotel and check out. No extra is charged if we check out by 2pm.
We go to the airport by taxi. It takes only 15 minutes if we go to Sonshan Airport.
The airport does not have many facilities after the security gate.
We should spend our time before the gate.
The flight is smooth and arrive in Haneda Airport ahead of the schedule.
We come home just an hour after the arrival.
I enjoyed very nice 4 days (and my wife did more).