Taiwan -day 2-Taipei
Continued from
Taiwan -day 1-Taipei
I was busy before I come to Taipei and my sleep was short.
I wake up late this morning after good sleep. It's already 10 o'clock.
We wanted to go to suburb, but it is rainy today. Now we go around the downtown.
For the breakfast we take nice bread and fresh juice at a supermarket nearby our hotel.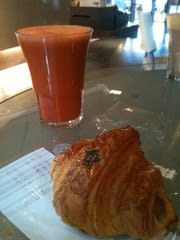 Then we go to a store of tea equipments (tea pots, cups and other accessories).
They don't speak Japanese. I try to speak my poor Chinese.
My wife can somehow buy what she wants.
For lunch we go to
Tu Hsiao Yueh
, a Tan Tsai noodle restaurant at Zhongxiao Dunhua.
Tan Tsai noodle 50 NTD
12 Lane 8 Alley 216 Sec. 4 Chung Hsiao Rd. E. Taipei City.
Tel: 02-2773-1244
I look down and find staffs are boiling noodles and removing shells of shrimp on the guest floor. This is a kind of ultimate 'open kitchen'.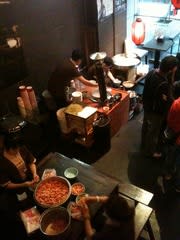 The climate in Taipei is usually nice in December, about 20C degrees.
It became very cold since yesterday. I did not bring warm cloth and have to buy some.
Then we look around a major book store.
Afterward we visit a tea store to buy my daily tea.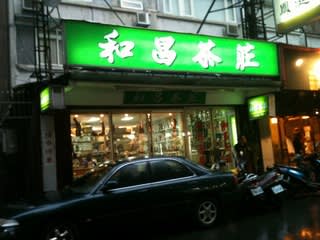 The owner of this store is very friendly, but pouring tea as we drink.
We drink too much here.
For diner we go to Hsin Pu Yuan, at Chung Shan Rd. N.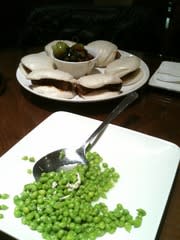 Sliced chicken and green peas. 480 NTD. (front)
Ton Po Rou, or deep boild pork. 360 NTD. (rear)
Corn soup. 280 NTD.
Very good taste and made us full.
24 Lane 2 Chung Shan Rd. N. Taipei City.
Tel.:02-2568-2768
A cookie we bought in the afternoon at a supermarket.
Thin and crispy.
Coninue to Taiwan -day 3-Taipei
.