Taiwan -day 1-Taipei
I come to Taiwan again. I have been here once in a year, almost in the same season.
My wife has been here a few days earlier, and I chased her.
I wanted to spend my single life, but I was busy for work and other stuff, and I needed to set up my new computer I bought a week ago.
I got asleep at 4 o'clock in the morning and could not get up early.
The time I left home was the latest. It was raining and the trains ran slow.
I arrived at the Haneda International Airport just 30 minutes before departure.
I almost gave up.
I had already checked-in on Internet and it probably helped me to ride.
My suitcase was checked at the special gate and also I went through the security check for crews only.
Well, I could make it.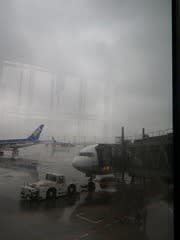 But I believe I was just lucky.
The flight arrived in Taipei on time.
I went through the immigration and picked the suit case very smoothly.
I met my wife at the hotel lobby. It was too early to check in the hotel. We left baggages there and visited a tea shop.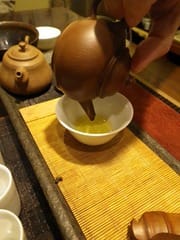 We drunk much tea as sample (In Taiwan you will be served much tea as sample).
After it we settled down at the hotel.
Then we visited other a tea sotre and a restaurant for diner.
Gaoji at Yongkangjie.
I missed diner last night while I was setting up my PC. How good to eat regular foods!
There are many Japanese restaurant.
I see many Japanese signs. Looks like staying in Tokyo.
Relaxing time with drinking tea at a tea house.
You can't sleep after drinking too much tea. It's not true to me.
I got sleepy after drinking too much tea.
Continued to
Taiwan -day 2-Taipei