Ski day 6 at HappoOne
6th day for this ski season, 5 days for powder, 2 days for backcountry, telemark for 2 day
HappoOne 14:00-15:20
Gear:
BanYa
M1102
I was forecasting no snow today and stayed very late last night.
I woke up and looked at Twitter and found it snowed some.
Oh, no. I should go early.
Today I received a new ski set made by
BanYa craft
.
It was completed in the afternoon.
I picked it up and went to HappoOne late afternoon.
Usagidaira.
It's already 2pm and late for skiing.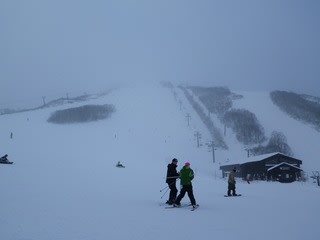 I just want to try skiing on this. A few runs are enough.
This is the new ski set, NanYacraft M1102.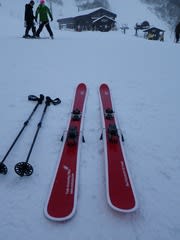 I requested many aspects for powder runs. It is completely hand-made and special one made for me.
Just tried some powder.
Very nice. Not like such fat skies, this is more orthodox.
After that I ran two runs on the terrain.
It was only 1 hour and half, but I enjoyed the new ski.
Next time I want to try it on the powder day.