USA-day 9
Continued from
USA-day 8
The new year comes in 3 hours and half here in the US.
Salt Lake City has no fresh snow. It rained in this morning. The air is warm.
The forecast says it has no snow next seven days.
Now the time we should leave here.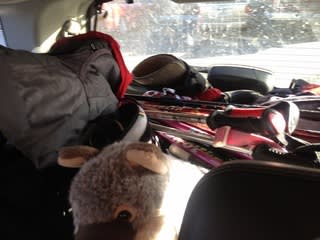 Pack and gotta way.
Driving in the wilderness.
Finally we see the snowy load.
That's what we wanted to see.
After 5 hours driving, we arrived at...
Jackson Hole, the Holy Land for powder junkies.
I wanted to come here. This was not as planned. Unhappiness in SLC becomes happiness here?
We hope good snow here.
For diner we went to Thailand restaurant.
Good name.
Bon Appe Thai
+1-(307) 734-0245
Jackson
245 W Pearl St
Jackson, WY 83001
The streets are nicely chilly.
Now we hope some powder snow.
Continued to
USA-day 10/Ski day 12 at Jackson Hole
.