Ski day 1 at Tateyama
1st day for this ski season, 1 days for powder, 1 days for backcountry, telemark for 0days
Tateyama 12:50-17:00
Gear: Teneighty GUN+GARMONT RADIUM
I almost gave up skiing this weekend.
Tateyama skiing as usual.
While I was at the rope work two weeks ago
, there was no snow.
Last week it was just covered white.
Early this week it got cold and snowed well.
BanYa Tour
tells me the tour will go.
I did not believe it.
The morning at Hakuba. Some frost on the window. This is the first time to see it in this season.
Ougizawa. Wow, it's snow!!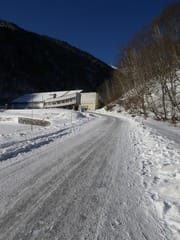 My winter tires are almost finished. The tires are not working on this slope!!
Then, now I am in Tateyama.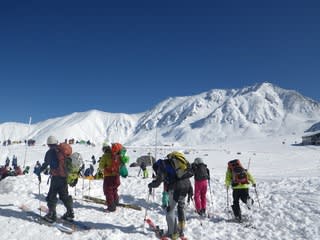 Looks goooood!!
I can't believe it snows this much in only a few days.
Start climing.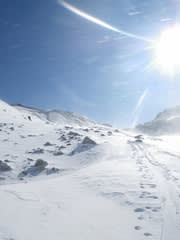 I am happy to climb as long as there is snow.
Toyama bay looks beautiful.
I don't complain when I see this beautiful seen and the snow.
And the skiing is also good!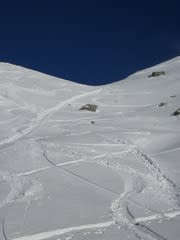 Powder snow!!!
It is good enough.
All commercial cabins are already closed.
Staying at expensive Tateyama Hotel, or camping.
I choose camping.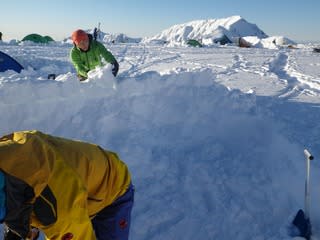 A tent we stay.
Beautiful night view of Toyama bay and the city.
Having one for the load at the terminal building and diner in the tent.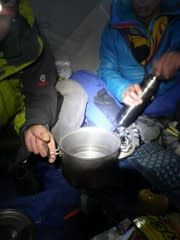 I bought Beaujolais, but...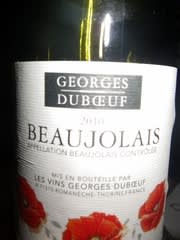 It's made in Y2010!! I did not know it when I bought.
It's Beaujolais, but nouveau!!
Nice diner and drinking.
Now we go asleep when it gets cold. Other tents are still enjoying drinking.
I wake up and go out. Seeing the full of stars.
Continuing to
Day 2
.