Ski day 2 at Tateyama
2nd day for this ski season, 2 days for powder, 2 days for backcountry, telemark for 0days
Tateyama 8:30-14:15
Gear: Teneighty GUN+GARMONT RADIUM
Continued from
Ski day 1 at Tateyama
.
"It's too cold to stay in a tent"
"You can't be standing on"
That's I was told before coming here.
I was very much afraid, but finally I could manage staying.
Today, I go with
BanYa tour
again.
It's a little cloudy.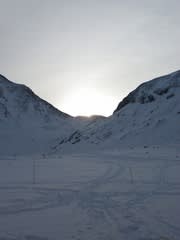 The forecast says it should be windy. We go near for skiing easily.
Climing up to Oyama, the highest summit of Tateyama mountains.
Seeing Mt. Fuji at there. I did not believe it is Mt. Fuji, seeing it very close.
At the summit of Oyama. Very windy.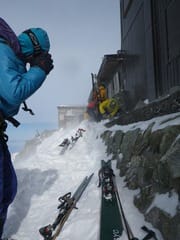 I wanted to check in at Facebook, but it is too windy to check with my iphone.
Skiing down, and climbing up again for seeking powder snow.
It is a little early, but now the time to end.
It looks flat light, and it's good to end.
Nice skiing for two days.