MTB-Day 3-Minekata(12.0/70.8km)
Day 3, 8days for MTB cycling, total distance 70.8km, total climb 1,563m
Minekata 13:40-16:02
Distance today 12.0km, climb 382m, duration 2:22, avg speed 5.0km/h, burned 356kcal
Gear: Specialized Rockhopper Pro
After the treking
, I ride on an MTB.
Today I go to Minekata, as usual.
A road to Minekata.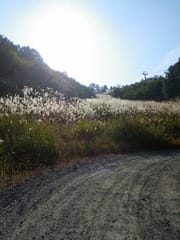 Japanese pampas grass, a typical scene in Autumn in Japan.
A view from Minekata top.
I like this view very much.
After the trail, I have a cheese cake at a cafe.
A joyful day.