Cycling-Day 29-Sakudaira-Karuizawa-Tokyo(192.4/5,168.6km)
Day 29, 83days for cycling, total distance 5,168.6km, total climb 66,508m
Sakudaira-Karuizawa-Tokyo 5:04-19:14
Distance today 192.4km, climb 1,633m, duration 10:32, avg speed 18.3km/h, burned 4,985kcal
Gear: Specialized Rockhopper Pro
Route today
.
Today, I make a very stupid plan.
Karuizawa
, where I went yesterday.
Today I carry my bike by the Nagano Shinkansen (bullet train) and run on the bike back.
Somebody likes Karuizawa and lives there.
Somebody go there every week.
But probably I am the only one to make a day trip for two days, and the last one is by bike.
This route is same as
the route I ran in June
. Today I go further.
5:07 start. It is still dark as a daytime becomes shorter.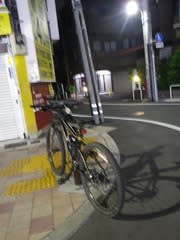 6:01 Tokyo station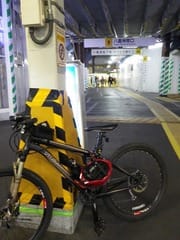 I break my bike here to carry it to the train.
I go for Karuizawa by the train.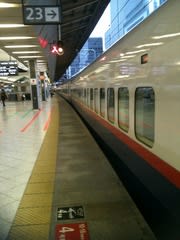 Now a stupid trip has begun.
This time I go to Sakudaira, further than Karuizawa.
7:44 arriving at Sakudaira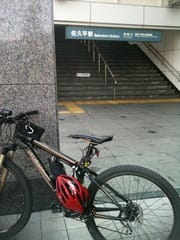 8:00 start again. I know it is much longer and longer. 180km to go.
1 hour running takes me to Karuizawa.
The cafe
I came yesterday
Morning set.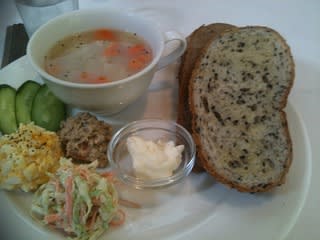 The cafe opens at 9am. I proberbly have to go around for 1 hour and half till the open time if I got off at Karuizawa. That's why I went to Sakudaira.
The restaurant master is very surprised that I come here twice in two days, but he is very much glad to see me again.
Now I leave to home. 9:30 start.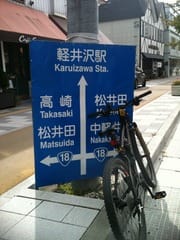 160km to go.
Just after leaving Karuizawa, I arrived in Usui pass (at 9:48).
Descending from the pass.
10:11 Megane bashi ('Eye glasses' bridge), it was used for a rail track.
10:35 Yokokawa
We were running on the road yesterday.
11:19 Tomioka. One third of the entire route.
12:25 Entering in Saitama Prefecture.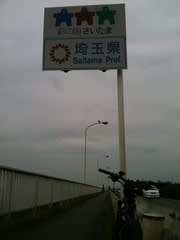 A half of the entire route. Long way to go.
13:27 Yorii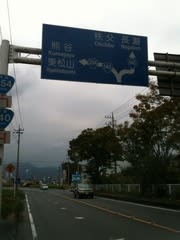 Last time I chose a longer route to Tama river
. This time I keep going on the Route 254.
15:51 Kawagoe
Kawagoe is an old city where the old Japanese style buildings are preserved.
Kawagoe has 'Dagashi Yokochi', or a cheap snack street.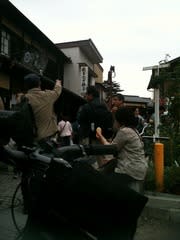 A shop of 'Tako-sen'.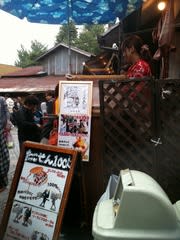 Tako-sen is a crispy baked octopus sandwich with a hot octopus fritter.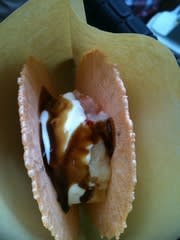 'Imo manju' or sweet potato dumpling.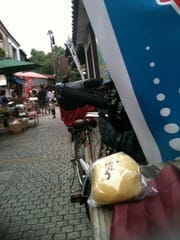 After the snacks I start again.
I keep running on the Route 254 all the way, and reached to Kan-nana (Circle street #7) at 18:10.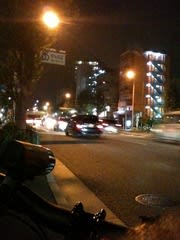 15km to go. I come closer.
19:15 coming back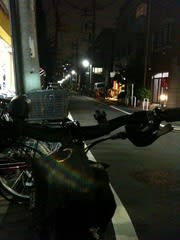 14 hours and 10 minites for the entire trip.
The daytime becomes shorter. Probably this is the last long trip this year.