USA -day 9-Michigan to Japan
Continued from
USA -day 7,8-Michigan, MTB-Day 2-Pinckney(20.6/58.8km)

Last day in the US.
A friend of mine Mr. ShiroHoppy told me we should drink Apple cyder in Michigan.
My friend took us to a super market to buy on the way to the airport.
A cup of drink at the deli table. Not an apple juice. More rich taste.
The super market.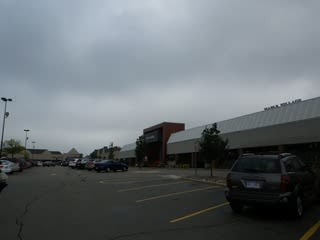 It is a shame to leave.
Lunch at the downtown of Ann Arbor.
Central European food. The US has various foods.
She drove us to the airport and we say good-bye.
And say good-bye to the US.
A tram is running inside of the building at Detroit airport.
We were afraid of cancellation or delay due to the typhoon in Japan, but the flight successfully leaves.
Always Heineken.
Many thanks to Mr. V's family in Princeton and Yoshi family in Michigan.